Did you know that February 22 is National Margarita Day? In order to commemorate America's most popular cocktail, Tequila Herradura – one of the oldest and most respected brands in the industry – has put a new twist on the classic recipe by bringing together two of Mexico's most authentic flavors: agave and tamarind.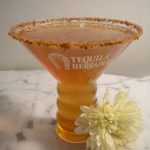 9 oz Tequila Herradura Blanco
1 liter tamarind pulp (can be found in retail locations featuring Hispanic or organic products)
4-6 oz simple syrup
Juice of 2 oranges
Juice of 2 limes
Chili powder and salt
In a container, mix tamarindo pulp, Tequila Herradura Blanco, simple syrup, orange and lime juices. Shake all of these ingredients by hand.
Fill half of a blender pitcher with ice, and complete with the liquid mix just prepared. Blend.
Serve in margarita glasses rimmed with chili powder and salt
Makes 6 cocktails