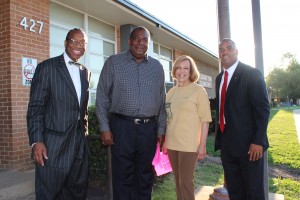 LANCASTER – State and local dignitaries, community professionals, school board trustees and district personnel greeted and ushered Lancaster ISD students and their parents down the red carpet as they returned to campuses for the first day of the 2013-14 academic school year.
The following state, county and local dignitaries attended:
· Marcus E. Knight, Mayor of Lancaster
· Dallas County Judge Carlos Cortez, 44th State Civil District Court
· Texas State Senator Royce West, 23rd Senatorial District
· Texas State Board of Education Member Mavis B. Knight
· Texas State Representative, Helen Giddings, 109 District
Approximately 75 volunteers, including our Lancaster Fire and Emergency Response personnel joined in to celebrate the start of another wonderful year in Lancaster ISD.
Many parents shared their delight to see so many smiling faces.
"This morning, at the George Washington Carver Campus, by far was the best first day of school that I have ever experienced out of the seven years that my daughter has been in school. It was absolutely wonderful to see all of the administrators and community leaders out to greet the kids and parents," Sherry Wilson, Lancaster ISD parent said. "The red carpet was just the icing on the cake, making the kids feel special and important. I was a little nervous this morning about bringing my child to a new campus, but after seeing everyone there, it let me know that she is in good hands. I left there feeling assured and that she's in the right place."
Volunteers and staff arrived early, before the sun was up, to begin preparing for students and parents. Some travelled to multiple campuses to greet the
"It was a privilege and an honor to serve our young people and their parents," volunteer Aaron (Kobie) Babatu said.
Executive Director of Accountability Dr. Lamont Smith was instrumental in orchestrating this event and said that he was pleased with the turnout.
"Just the fact that so many people showed up to assist and that everyone was excited to work with students and parents was phenomenal," he said. "You could see the smiles on students' faces as they interacted with business leaders throughout the community and it gave our students a sense of hope that they could one day be like them."
Dr. Smith said he was also encouraged by the response of the parents.
"The parents were excited that we were there," he said. "For them to see the presence of people who didn't even work for Lancaster ISD there to say that school is important was powerful. "It was not just the staff, but also the community saying that education is important. It gives me great hope that this community will continue to stay engaged."
Lancaster ISD is experiencing an increase in student enrollment this year with approximately 6500 students enrolled.