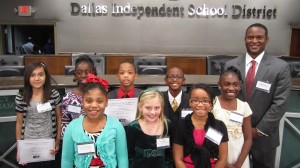 Fourth-and fifth-grade students from Dallas ISD elementary schools will vie for one of eight finalist positions during the semi-final round of the 22nd Annual Gardere MLK Jr. Oratory Competition onTues., Dec. 10. Students representing 19 schools will deliver original speeches between three to five minutes, answering the question: "If Dr. King were speaking at a March on Washington today, what would he say?"
Presented in the spirit of learning and celebration, the competition is designed to highlight the cultural diversity of the community while recognizing and encouraging the writing and speaking skills of elementary school students. The annual competition is presented, hosted and sponsored by Gardere Wynne Sewell LLP.
More than 180 students took part in the in-school competitions held Oct. 14 ­ 25, 2013 competing for the opportunity to represent their school in the semi-final round. Eight finalists will advance to the final competition on Jan. 17, 2014 at the Majestic Theatre in downtown Dallas. Students are judged on their delivery, stage presence and decorum, content interpretation, and memorization at all three levels of the competition.