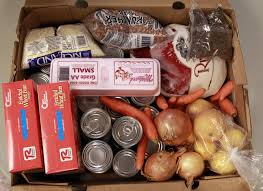 The North Texas Food Bank (NTFB) unveiled its first Holidays Without Hunger: North Texas Food Bank Holiday Giving Guide, featuring a variety of ways to donate and help put food on tables for children, families and seniors in need this season and throughout the year. Items from the online Holiday Giving Guide were brought to life at a launch event at the NTFB distribution center, featuring Santa and his elves, volunteers sorting food, and an inspiring personal story as told by a Food Pantry client. The new Holiday Giving Guide supports NTFB's $7.5 million holiday fundraising goal needed to sustain food distribution for Hungry North Texans.
"While some people wish for the hottest toys, the latest gadgets, or new clothes during the holidays, far too many just hope to put food on the table during this important season. So we are unveiling our first Holidays Without Hunger: North Texas Food Bank Holiday Giving Guide, as a festive way for people to give and help our neighbors in need," said Jan Pruitt, NTFB president and CEO.
"NTFB aims to raise 40 percent of our annual funds from November through December, so we especially need the community's help to reach our $7.5 million holiday fundraising goal and bring full plates and big smiles to our neighbors in North Texas." Supporters can browse through the online North Texas Food Bank Holiday Giving Guide to made a donation to purchase much-needed warehouse equipment or support critical programs like Food 4 Kids.
Items include:
Food 4 Kids Backpack – Sponsor a Student ($200 per student/per school year)
Pallet of Produce – To Feed Families in Need ($350)
Electric Pallet Jack ($5,500, NTFB needs five)
Produce Distribution Truck ($60,000)
Produce Distribution Trailer ($100,000, NTFB needs two)
Pet Bandana benefiting Food 4 Paws ($10 for small size & $15 for larger size)
NTFB Holiday Cards (10 cards for $50)
"There's no greater gift than one that also gives to others. Consider making a corporate or personal donation to NTFB in someone's honor or memory this holiday season, and know that your generosity will help to ensure that others do not go hungry this holiday season," said Pruitt.
Stephanie White added, "As a single parent of four children and disabled veteran currently searching for a job, I needed help to provide for my family," said White, a client at NTFB partner agency Our Community Pantry. "We had been living off of noodle soup for weeks when my four-year-old stopped eating, begging for something else. That's when I went to North Texas Food Bank and Our Community Pantry for help– they provided nourishing food and I finally saw the light at the end of the tunnel! Thanks to generous supporters, I am able to make dinner for my children during this difficult time."
The community can give back in numerous ways whether through the Holidays Without Hunger: North Texas Food Bank Holiday Giving Guide, volunteering at the NTFB distribution center, or making a donation of any amount.
Hunger by the Numbers:
Every $1 donated provides 3 meals for hungry North Texans
1 in every 4 children in North Texas are at risk of hunger
NTFB provides access to 170,000 nutritious meals a day BUT the need is 250,000