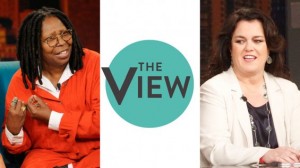 Editor's note: Do you think the show has run it's course and ABC should let it go? Maybe the lesson learned for all of us that sometimes you can't go back and try to recapture previous success. When you are in a different place in your life, when the environment has changed – it makes a difference – because you were successful before does not mean it will work again. 
When Rosie O'Donnell made her triumphant return to "The View" in September, she promised a calmer version of the host who previously fled the program in 2007 after a single season.
But O'Donnell's unhappiness at "The View" led her to announce on Friday, via a story in the New York Post's Page Six section, that she was exiting the show after five months. ABC executives agreed to release her early from a 11-month contract, estimated to be worth $5 million.
O'Donnell, who has a reputation as a demanding and sometimes abrasive boss, didn't feel like her strengths were being properly used by ABC, according to those close to the 52-year-old comedian. Compounding the problem were tensions with co-host Whoopi Goldberg and behind-the-scenes executive turmoil at "The View," which recently shifted to management under ABC News.
During her first stint on the show, O'Donnell had served as "The View's" moderator, but that job now belongs to Goldberg. Insiders say this turned out to be a source of frustration for O'Donnell, as she felt Goldberg was dismissive of opposing viewpoints during some of the show's key debates. For example, O'Donnell didn't like what she saw as Goldberg's refusal to let the co-hosts have a candid discussion about one of the most explosive topics of the past few months: the allegations of rape levied at Bill Cosby by more than two dozen women.
The working relationship between O'Donnell and Goldberg became even more strained as a result of the show's morning meetings. "The View" staff typically congregated at 9 a.m. each day to brainstorm for the "Hot Topics" segment. O'Donnell didn't think this gave them enough time to prepare for an 11 a.m. live show, so the meetings were moved to 8:30 a.m.
But the earlier time meant that Goldberg (who commutes into the city each morning from New Jersey) would sometimes arrive a few minutes late. This irked O'Donnell, who interpreted Goldberg's occasional tardiness as a sign that she wasn't committed to the job. The meetings eventually moved back to 9 a.m.
Read this interesting and  in-depth article which provides a close look at why it did not work out for Rosie O'Donnell on The View this time.