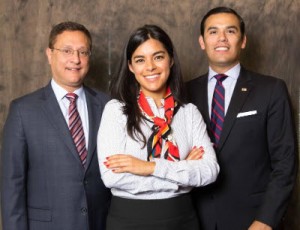 Dallas, TX – The Latino Center for Leadership Development (Latino CLD) is pleased to welcome Rebecca Acuña as the organization's new Executive Director. As Executive Director, Acuña will oversee the implementation of the organization's programs and services. Acuña will fill the vacancy created by Solis who has transitioned to President of the Latino CLD.
"We are excited to have Rebecca join the organization in this capacity," said Miguel Solis. "She has a breadth of perspective and experience that will help the organization excel. Rebecca's political and policy experience will be critical as we launch our inaugural Leadership Academy and begin our Policy Institute to increase awareness and find solutions to issues faced by the Latino community."
"As the Latino population continues to grow in Texas, so does the demand for thoughtful leaders," said Rebecca Acuña. "I'm thrilled to take on this role as we help promising leaders prepare to seek elected office and make a difference in their communities."
Rebecca's professional experience includes working in state and federal government, communications, and political campaigns. Prior to working at the Latino CLD, Rebecca served as Chief of Staff for State Representative Cesar Blanco, where she managed the Representative's legislative agenda, communications plan, and outreach efforts. Rebecca has also held positions as Press Secretary for the Wendy R. Davis Campaign, Communications Director for Congressman Pete Gallego, Communications Director and Deputy Political Director for Base Outreach for the Texas Democratic Party, and Policy Analyst for State Representative Garnet Coleman.
The Latino Center for Leadership Development (Latino CLD) seeks to help develop the next generation of Latino leaders who will work to improve their communities. The Latino CLD aims to accomplish its mission through three core pillars:
A Leadership Academy for promising leaders who want to get involved in public policy or public office. The Academy will serve as an educational training program aimed at providing promising Latino leaders with a set of knowledge, skills, experiences, and networks necessary to assume and succeed in positions of impact with a focus on policy roles and elected office.
A Policy Institute formed in partnership with the John Goodwin Tower Center for Political Studies at Southern Methodist University. The Institute will bring light to Latino thought about today's state of affairs and develop innovative solutions to the issues faced by Latinos and the broader community.
Strategic Initiatives aimed at highlighting and improving the experience of Latinos in American society.