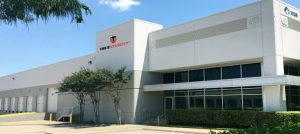 The City of Garland has approved a deal worth more than $35 million that will significantly expand the community's plastics industrial cluster. This major new investment, made by True Velocity, Inc., will be phased over the next five years and continues a highly targeted approach by the community to grow its share of this particular industry.
Founded in 2010 by Chairman and Chief Executive Officer Kevin Boscamp, True Velocity, Inc. is a privately-held advanced technology company specializing in highly sophisticated products meeting stringent specifications of clients who require precise and confidential technical solutions.
Chris Tedford, True Velocity President and Chief Operating Officer, announced the company's opening of a new 60,000-square-foot manufacturing facility in Garland. The new facility, which is slated to open in the second quarter of 2017, will initially employ approximately 30 people.
"Our strict protocols ensure the highest level of product development protection.  Maintaining confidentiality throughout R&D, product manufacturing and final delivery is of the utmost importance.  Our processes allow expeditious responses to our customer's dynamic mandates," stated Tedford.
True Velocity's products and manufacturing processes have been awarded over 100 patents or patents pending.  True Velocity's superior methods result in advanced performance products that are rugged, high-strength, faster, lighter and adaptable to rapidly changing conditions.
Tedford continues to serve as President of Automatic Products Corporation (APC), also headquartered in Garland.  A family-owned business founded in 1957, APC is a third generation precision manufacturing company, which is nationally recognized as a leading provider of precision machined products for a broad range of industries.  True Velocity continues the tradition of partnership with the City of Garland.
With a commitment to provide high-quality jobs, True Velocity plans to strive to mirror APC's 60-year example of being a strong contributor to Garland's local economy.
"We are excited to continue a long-standing relationship with the technology and manufacturing supportive City of Garland.  We anticipate continued growth in Garland and a successful partnership," added Tedford.
"It is our pleasure to recognize and celebrate the success of yet another outstanding Garland-based company and we are extremely excited to partner with them in their latest growth and expansion," said Garland Economic Development Director David Gwin. "Garland continues to proactively pursue and support the growth and expansion of numerous community-based commercial and industrial stakeholders. True Velocity will be yet another exciting addition to Garland's robust plastics and advanced manufacturing clusters," Gwin added.
Garland's industrial sector continues its expansion with numerous recent plastic manufacturers, including Plastipak, VPET USA, Lone Star Plastics, GTM Plastics and other advanced manufacturers, including L3 Communications and Micropac Industries, all having made recent significant investment plans and announcements.