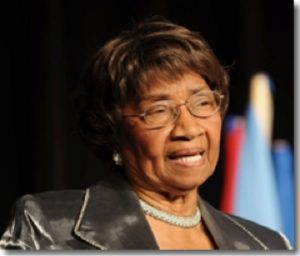 By Shirley Tarpley, NDG Religion Editor
Dr. Myrtle Hightower of North Dallas on Sunday, January 7, 2018, was honored, and given a standing ovation for her presentation on Dr. Martin Luther King, Jr., his life and his legacy' and her impending retirement from all public service. Less than 13 years of Dr. King's, leadership of the modern American Civil Rights Movement, from December 1955 until April 4, 1968, Black Americans achieved more genuine progress toward racial equality in America than the previous 350 years had produced.
Dr. Hightower took a diffident approach to Dr. King's famous speech, I Have a Dream and it was interesting.  The speech was punctuated with songs associated with the Civil Rights movement. Reverend Clarence J. Ford, Jr., Senior Pastor of Hill Chapel CME Church of Plano, where Dr. Hightower is a member, read the famous speech and would stop at a designated spot where a pastor and different members of the church would sing a song.
The first song was America, sung by Rev. Jeffrey Murray; the second song was Ain't Gonne Let Them Turn Me Around, sung by Sis. Donna Murray, this song was followed by Oh Freedom, sung by Rev. Murray. The next song was Stand by Me during the storms of life, sung Sis Ursula Harris.  This was followed by Nobody Knows the Troubles I've Seen, sung by Sis. Murray. And, the renowned Mr. Doc Gibbs, the piano player for The First Baptist of The Colony sung Change Gonne Come; It's Been a Long Time Coming. The next song was Walk with Me Lord while I am on this journey; and hold my hand, sung by Sis. Doris Lewis. The last song was We Shall Overcome, with the audience standing and everyone singing.
Dr. Hightower began her career and her history of community service in Tulsa, Oklahoma.  She was instructed by her parents to always get involved in community services. She held many positions in education in Oklahoma, including Dean of Women at her alma mater, Langston University, where she earned a bachelor's degree in English. Dr. Hightower also earned a Master of Teaching degree from Northeastern State University; and a PhD from the University of Cincinnati. Dr. Hightower was involved in community services, and services in the Plano Independent School District (PISD) when she lived in Plano.
She worked in Plano ISD for many years as a teacher and counselor. She has served on many committees and boards throughout the City of Plano and has been honored with numerous awards. To name a few, Dr. Hightower was selected as one of Plano ISD's 100 Heroes in 2017; she is a Collin College Living Legacy and a recipient of the Texas Hero for Children Award. Along with her late husband, Professor John Hightower, Dr. Hightower has long been a resounding voice within Plano community.