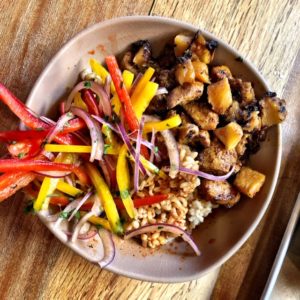 By Ruth Ferguson, NDG Editor
Cinco de Mayo like many American holidays started out to acknowledge an event or someone but has primarily become a reason to eat and drink. Why buck the trend? Tacos and tequila for everyone! But where to go you ask? Below are three suggestions.
After visiting as a guest of bartaco in Preston Shopping Center, my friend would return once a week if I agreed to go back that often. Honestly, it is worth it, but hey this is Dallas and 12 restaurants open a week, so you have to spread the love around.
bartaco stands out because it is affordable, the menu is interesting, and not a single item we have ordered was not wonderful. Add in fact, the staff is friendly, and it is a winner.  If you visit, look for us at the table in the back left corner.
Popular items on the menu include the Chicken Pastor Rice Bowl, the Chicken Soup, the plantains, and my favorite side is the Corn Fritters. They several different tacos, but make sure you ask for the secret taco. Once when we visited it was roasted brussel sprouts – WOW. Now when it comes to drinks, you must have the Old Thymer, which is a mixture between an Old Fashion and a Manhattan, you will not be disappointed. If you are, I will finish the drink for you.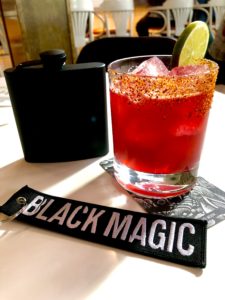 Maybe you are not hungry, and just want to enjoy your favorite adult beverage. Forget the tequila and look for mezcal, which has a heavenly smoky flavor thanks to the agaves, which are roasted in underground pits. Last week, I visited a delightful small bar called Tiny Victories in Oak Cliff, near Bishop Arts District, as a guest of Mezcal El Silencio. Made with their mesquite smoked El Silencio Espadin, it is indeed #MESBlackMagic. Trust me once you have the Oaxacarita you will find yourself asking what is tequila.
Alright I know many of you love tequila. Don't worry because all weekend long, El Rincon in Carrollton will offer Hornitos Margarita of the Month for $8, El Jimador Blanco shots for $4, house margaritas are priced as Friday – $5, Saturday – $4 and Sunday – $3. Smooth Condition will provide live music from 6 p.m. – 9 p.m. on Saturday.
Then go back for Tipsy Yoga on Saturday, May 4. The tickets are available on Eventbrite, $10 for the class, two drinks, and brunch bites.
Just for the record, Cinco de Mayo commemorates the Mexican Army's victory over the French Empire at the Battle of Puebla, on May 5, 1862, under the leadership of General Ignacio Zaragoza. However, it is more of an American holiday than one celebrated in Mexico.