BY TERRELL MENDENHALL
NDG ENTERTAINMENT CONTRIBUTOR
Disney's latest princess is a beautiful woman with a very unique voice, who in the end of course finds her prince. But there is something unique about this sparkling animated film. Princess Tiana is Disney's first African American princess.
Ten- year- old Elizabeth Dampier of Madison Mississippi plays the role of Princess Tiana in the fairy tale movie Princess and the Frog "finally there is something that young black girls, can embrace and that is huge" said Floydean White a recent moviegoer.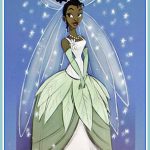 Tiana's story shows similarities to other Disney princesses such as Snow White, Disney's first
princess featured on the big screen in 1937, and 72 years later Disney makes history again.
Princess and the Frog draws inspiration from the 18th century but Disney transferred the story to
early 1920s in New Orleans, Louisiana, changed her name, her race and almost everything else.
Tiana is a waitress and a talented chef who dreams like her father of someday opening her own restaurant. She eventually kisses a frog and turns into one. She journeys into the dark bayou in search of a cure from a Voodoo queen. She is guarded by a goofy firefly and a trumpet playing
alligator, and when it's all over the frog turns into a handsome prince called Prince Naveen.
The Princess and the Frog earned a giant leap from family audiences as the animated film was No. 1 at the box office with $25 million in its first weekend of nationwide release. The Disney musical and hand drawn animated tale currently dominates the cartoon world and will hopefully
lead to future quality animated films with a diverse cast.