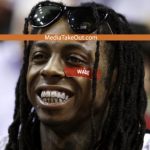 We recently reported that famed hip hop rapper Lil' Wayne, a.k.a. Dwayne Carter of Young Money Millionaires (Cash Money Records) received a delayed sentencing start date due to the $150,000 worth of precious metals and jewels in his mouth.  Well, we thought we'd let you know that Lil' Wayne is going to Ricker's Island (you know one of the worst prisons in New York) sooner than he or we expected.
Lil' Wayne had his permanent grill (common name for gold/silver/platinum encapped teeth) removed last week which resulted in eight root canals and some other dental repairs.  Come on now Lil' Wayne eight root canals?  Anyway, the New York judge who sentenced the rapper earlier this month reduced his 30 day stay for the extensive dental procedure to the rapper having to now turn himself in on March 2. 
Representatives from Lil' Wayne's camp says he is strong about his year long sentence (yeah right) but understands that this may be the will of God for his life.  The rapper will turn himself in immediately for sentencing.