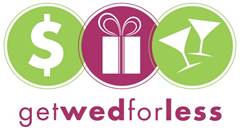 Bridal concierge site releases its findings from competitively priced vendors
 GetWedForLess.com recently expanded its reach to benefit brides in Dallas and Ft. Worth.  Serving as a host for affordable wedding vendors, GetWedForLess.com now has numerous quality vendors collected and listed for Dallas/Ft. Worth brides, grooms and wedding planners.
With its start less than two years ago, GetWedForLess.com now serves sixteen metropolitan areas with plans to reach more in the near future.  In 2012, the Dallas/Ft. Worth metro area was named one of the most affordable markets to get married; however, the bill still ranges between $11,000 and $28,800  (according to Cost of Wedding and Value Penguin).  People in this area and all of the markets on the site need a trusted resource to find credible and affordable vendors to plan this often times this stressful and expensive life event.  The team of market researchers at Get Wed For Less work to produce such a resource that cane enable individuals to save up to 60 percent of their wedding costs.  Through a monthly subscription, visitors are able to search, view prices and contact now over 1000 local and online vendors within these sixteen markets for less than $2.50 a month.
GetWedForLess.com showcases offerings from vendors in several markets, including Atlanta, Baltimore, Chicago, Dallas, Fort Lauderdale, Los Angeles, Miami, New Jersey, New York, Northern Virginia, Philadelphia, San Diego, South Florida and Washington, D.C. The researched vendors on GetWedforLess.com are regarded as affordable within their category. Categories featured are venues, dresses, cakes, florists, photographers, videographers, caterers, jewelry, rentals, invitations, and more.  Access to the full website accompanies a low monthly subscription and offers many features, such as "Vendors I❤" which allows viewers to save their favorite vendors in one place.