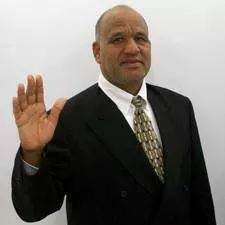 Mohamed Elhassan Mohamed, born in Sudan in 1961 but long time resident of Irving, has announced plans to run for President of the African nation Sudan. The oldest of nine boys, he is now the father of seven children.
Mohamed's journey in America has taken him from selling hot dogs on the street corners of New York City to driving cabs in Dallas before he went on to own a cab company. The company grew to 200 drivers in the ranks before he sold Jet Taxi to Yellow Cab.
His childhood in the African village was filled with hardships and struggles, but Mohamed aspired for more and gained his degree from Cairo University in Khartoum in philosophy.
Education has it's benefits, but it is not a magic bullet to solve all problems, Mohamed shared, "My struggle did not decrease, but my ambition increased. I worked at Khartoum International airport as an employee of assistance clearance customs until I became the director of clearance customs, and the president of workers. Once I realized my dream was bigger than what Sudan had to offer I immigrated to America in the mid-1980's."
Unfortunately his degree was not accepted in America so he found himself selling hot dogs, candy, and newspapers in Manhattan.
"I realized this wasn't enough for me, and I packed my bag and moved to Dallas, Texas y'all," Mohamed shared.
He started out as a pizza delivery man before he became a taxi driver. But while he was working he was also pursuing his education in America at Spring Creek Community College in Plano.
"I  excelled in the transportation and communication businesses which helped me as an entrepreneur."
In addition to Jet Taxi, Mohamed  created two companies, one in America called Paradise Prime Investment, and one in Sudan called AlSufi International for solar energy. He serves as president of the AlSufi Center in Irving.
Also, Mohamed still takes time to help others in his adopted homeland, serving as a mentor at Jack E. Singely Academy High school in Irving.
But his love for his native land has led him to stay involved. He serves as the vice president of the National Reform Party in Sudan and was nominated for President in 2010 and 2015.
"When I went for the elections in 2010 they were rigid. When I was there my country was worse than I had left it. I saw people starve, and babies, die, and women cry in Darfur. No peace. No justice. So I am back to save my Sudan, so help me God. I'm hope for my country to become great, and to reestablish good connections with America. My country is going through economic hardship because of the embargo, and I would like to lift it."