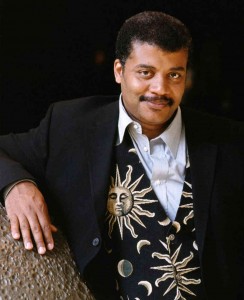 The nonprofit AT&T Performing Arts Center, in association with KERA, announced recently that single tickets for Neil deGrasse Tyson – "An Astrophysicist Goes To the Movies" will go on sale Friday, May 22 at 10 a.m. Voted "sexiest astrophysicist" by People Magazine in 2000, Neil deGrasse Tyson will enlighten and amaze the audience at 7:30 p.m. Monday, June 15 at the Winspear Opera House in the Dallas Arts District, and is part of the 2015 inaugural #thinkspeak season.

From "Star Wars to Gravity", an entertaining and enlightening review of all the science that our favorite movies got wrong, combined with some of the stuff they got right.

Center Members get access to the best available tickets. Call Membership Services at 214-978-2888 or go to www.attpac.org/support to join. Center Membership presale began on February 6 at 10 a.m.
Ticket prices for Neil deGrasse Tyson range from $100 to $20 and can be purchased online at www.attpac.org, by phone at 214-880-0202 or in person at the AT&T Performing Arts Center Information Center at 2353 Flora Street (Monday 10 a.m. – 6 p.m.; Tuesday thru Saturday 10 a.m. – 9 p.m.; Sunday 10 a.m. – 6 p.m.).
For five seasons, beginning in the fall of 2006, Tyson appeared as the on-camera host of PBS-NOVA's spinoff program NOVA Science NOW, which is an accessible look at the frontier of all the science that shapes the understanding of our place in the universe.
Neil deGrasse Tyson was born and raised in New York City where he was educated in the public schools clear through his graduation from the Bronx High School of Science. Tyson went on to earn his BA in Physics from Harvard and his PhD in Astrophysics from Columbia.
Tyson's professional research interests are broad, but include star formation, exploding stars, dwarf galaxies, and the structure of our Milky Way.
In 2001, Tyson was appointed by President Bush to serve on a 12-member commission that studied the future of the US aerospace industry. The final report was published in 2002 and contained recommendations (for Congress and for the major agencies of the government) that would promote a thriving future of transportation, space exploration, and national security.
In 2004, Tyson was once again appointed by President Bush to serve on a nine-member commission on the implementation of the United States Space Exploration Policy, dubbed the "Moon, Mars, and Beyond" commission. This group navigated a path by which the new space vision can become a successful part of the American agenda. And in 2006, the head of NASA appointed Tyson to serve on its prestigious Advisory Council, which will help guide NASA through its perennial need to fit its ambitious vision into its restricted budget.
In 2014, he hosted the television series Cosmos: A Spacetime Odyssey, a reboot of Carl Sagan's 1980 series Cosmos: A Personal Voyage. The U.S. National Academy of Sciences awarded Tyson the Public Welfare Medal in 2015 for his "extraordinary role in exciting the public about the wonders of science."
Tyson is the recipient of eighteen honorary doctorates and the NASA Distinguished Public Service Medal, the highest award given by NASA to a non-government citizen. His contributions to the public appreciation of the cosmos have been recognized by the International Astronomical Union in their official naming of asteroid "13123 Tyson."
For more information on the AT&T Performing Arts Center, to become a member, or to make a donation, visit www.attpac.org.