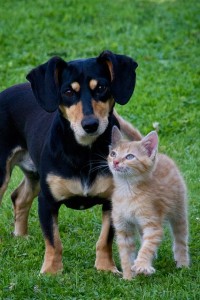 This past week Carrollton Animal Services encountered quite the challenge with overflow at the facility. No dog runs were available for incoming animals; the shelter was full. The staff had to get creative and by thinking outside the box, managed to adopt out or tag for a rescue ALL the animals on the urgent list.
By partnering with the City of The Colony's animal shelter as well as Operation Kindness, Carrollton was able to swap dogs for cats, and offer food, vaccinations, and other resources to find a spot for these dogs. And the approach paid off.
The Colony traded two cats and one small dog for three of Carrollton's dogs, opening two dog runs. And Operation Kindness took seven dogs for vaccines, resources, and maybe a persuasive peanut butter brownie or two. In all, Carrollton Animal Services moved 10 dogs opening up nine dog runs and ultimately canceling the Urgent List this week. Carrollton maintains its standing of not euthanizing an adoptable animal since November 2013.
The staff is still working to determine if this method is a sustainable one, but it worked for this week.