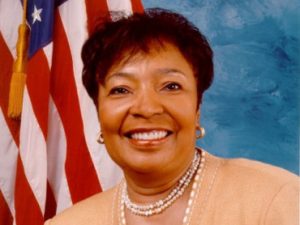 By Congresswoman Eddie Bernice Johnson
Recently  in the nation's capital during the Congressional Black Caucus Foundation's Annual Legislative Conference, my colleagues and I met with some of the finest minds in the fields that comprise the "global language" of the future: science, technology, engineering and math, colloquially referred to as STEM.
During the Annual Legislative Conference, I served as the honorary host of the 23rd Annual Science & Technology Braintrust. The Braintrust centered on the theme of "Pushing the Limits: The Future of Consumer Electronics & the Journey to Mars and Beyond."
Founded more than two decades ago under my leadership, the Braintrust, as it has for many years, brought together STEM professionals, educators, entrepreneurs, and students from around the country. One of the Braintrust's major objectives was to create a dialogue and share strategies to broaden participation in the sciences among minority students, and to inspire them to pursue STEM-based careers. Historically, the Braintrust has brought together professionals, community leaders and mentors to achieve this very important goal.
During the course of the Legislative Conference some of the best minds in consumer electronics, commercial space travel and space exploration discussed topics such as increasing diversity in tech companies, the effects of climate change, dismantling the school to prison pipeline, women in business, opportunities in cyber-security, closing the skills gap and many others.
During the remainder of this year and the coming year, I will continue to share with residents of North Texas the dynamic information that came out of the Legislative Conference. I will continue to work educators, policy experts and our corporate partners to identify resources to supplement science discovery and exploration in our local classrooms. Information is powerful, and it is crucial to our collective growth and development.
At the close of conference, I walked away even more committed to expanding STEM outreach in minority communities, and I am looking forward to continuing to work with the constituents of District 30 to ensure that we are preparing our students with the skills necessary to compete in a global economy that is driven by technology, science and research.