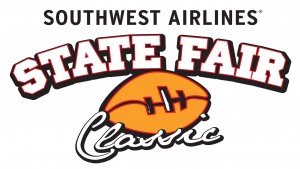 The Southwest Airlines State Fair Classic is not just the big game, it is not just the Battle of the Bands. It is a big part of Black History in not just Dallas, but it is a big part of Texas history. That is why it calls for a Texas size weekend celebration with several events planned.
Friday Sept. 25 the weekend kicks off with the Radio One CELEBRITY GOLF TOURNAMENT at the Cedar Crest Country Club teeing off at 8 a.m. hosted by the Prairie View A&M University Alumni – Dallas Chapter. The celebration continues at the 20th Annual ATHLETICS SCHOLARSHIP & STADIUM GALA at the Marriott City Center Hotel at 6:30 p.m.
Perhaps you prefer to get our laugh on then get ready to enjoy Cedric 'The Entertainer'; Eddie Griffin, D. L. Hughley, George Lopez and Charlie Murphy at the
THE COMEDY GET DOWN, 8 p.m. at the American Airlines Center.
Then Saturday is the big day! Grambling State University Alumni – Dallas Chapter HIGH SCHOOL BATTLE OF THE BANDS at Lancaster High School starts things off early at 8 a.m. Then the PRE GAME CONCERT – State Fair of Texas at the Chevy Main Stage featuring LYFE JENNINGS at 2 p.m. at Southwest Airlines
Finally it is game time at the STATE FAIR CLASSIC Football Game at the Dallas Cotton Bowl. The game everyone is looking forward to: Prairie View A&M vs Grambling State University at 4 p.m. Then it is time to get your groove over at the LA-TEX 2K15 – SOUTHSIDE BALLROOM at Gilley's at the AFTER PARTY at 9 p.m.
Still need a ticket? Then plenty are available at Ticketmaster.com & all TM locations, or you can order by phone at 800-745-3000.