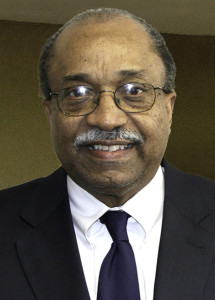 Editor's Note: On behalf of the Publisher and Staff of the North Dallas Gazette we send our deepest sympathies to the Belt family during this time of loss. James Belt leaves a remarkable legacy of service to the Dallas community. 
(The Dallas Examiner)- The Dallas Examiner and the Law Office of James C. Belt Jr. mourns the loss of Attorney James C. Belt Jr.
For close to 40 years, he has served the community as a civil and criminal lawyer. He received his Bachelor of Business Administration Degree from Pan American University, Edinburg, in 1968. And went on to earn a Juris Doctorate from Thurgood Marshall School of Law at Texas Southern University in Houston in 1977. He opened his private practice in the heart of South Dallas, where he served those who needed him most.
Belt, who was also a Dallas Examiner co-publisher, sat on the board of the National Newspaper Publisher Association, the official Black Press of America and the NNPA Foundation Board. He served as more of a silent partner and advisor, but it was his support that has helped The Dallas Examiner continue to serve the community for almost 30 years.
He was the founder of the Dallas Black Criminal Bar Association – an organization of Black lawyers in the private practice of law in Dallas County. He was a member of the National Bar Association, Texas Bar Association, J.L. Turner Legal Association and the Inns of Court.
In September, he received the Living Legends award from J.L. Turner Legal Association.
As a well-respected leader in the community and activist, he also served the community by offering his words of wisdom and years of knowledge and experience. During the early 2000s, he co-hosted Dallas Examiner Live on KNON Radio. He previously sat on the Texas Southern University Board of Regents in Houston, Dallas Area Rapid Transit Board and the Texas Rural Foundation Board.
He was also a lifetime member of the NAACP.
Belt held strong spiritual beliefs and was dedicated to serving the Lord. For close to 40 years, he was a dedicated member of St. Luke Community United Methodist Church, where he was an active member of the Good News Sunday School Class. Each year, the class would offer scholarships to college students and automobiles for those in need of transportation. He was a founder and tri-chairman of the St. Luke Community Leadership Luncheon. He also served as a trustee board chairman at St. Luke.
At the end of a long battle with pancreatic cancer, Belt was admitted to Baylor Medical Center, where he died Sunday at 5 p.m. due to complications. He was 71 years old.
He was a dedicated family man. He is survived by his wife of 45 years, Mollie F. Belt; his children, James C. Belt III, Melanie Belt, MD and Carlos Cavazos; 10 grandchildren, Brittany Cavazos, Jerry Cavazos, C.J. Cavazos, Joshua Cavazos, Michael Cavazos, Lejond Cavazos, Chloe Cavazos, Bryce Belt, Dylan Belt and Melania McDaniel; two daughter-in-laws, Melba Cavazos and Cherrese Belt; and one son-in-law, Demetrius McDaniel, Esq.
The wake will be held on Thursday at 6 p.m. at Black and Clark Funeral Home, located at 2517 E. Illinois Ave.
The funeral will be held on Friday at 11 p.m. at St. Luke "Community" United Methodist Church, located at 5710 E R L Thornton Freeway, 75223.