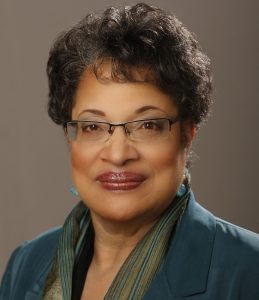 Thirteen years ago, when Dr. Jennifer Wimbish set foot on the campus of Cedar Valley College as its new president, increasing enrollment and becoming an integral partner in the community were only two of many goals and challenges she had in mind. During her tenure, three early college high schools were created, and Cedar Valley was designated as "First in the World" for its chapter of the international academic honorary for two-year colleges, Phi Theta Kappa, among many other achievements.
Those accomplishments and more will be celebrated during a retirement reception for Wimbish on Mon., May 9, from 1:30 to 3 p.m. in the gymnasium (Building G) on Cedar Valley's campus, located at 3030 N. Dallas Ave. in Lancaster.  Members of the general public, surrounding communities and the Dallas County Community College District family are invited to attend the free event.
Wimbish, who has the longest tenure among current DCCCD presidents, said, "I have two key passions: students and partnerships – specifically, those connected with the community and workforce development."  Wimbish added, "It has been an honor and a privilege for me to serve as the president of Cedar Valley College for 13 years."
In addition to her service as president of Cedar Valley, Wimbish has been involved in a number of national higher education organizations, including thePresidents' Round Table, a national network of African-American community college CEOs; Phi Theta Kappa; and Best Southwest Partnership (as a past member of its board of directors).  She was a signatory of the American College & University Presidents Climate Commitment (ACUPCC) in 2007 and received the Administrator of the Year Award from Minority Access in 2013 for her efforts to improve the recruitment, retention and enhancement of minorities.
Wimbish received the prestigious 2016 Michael Bennett Lifetime Achievement Award from PTK, which recognizes retiring college presidents, chief executive officers and state community college directors for the outstanding support they have provided to PTK over many years.
Wimbish holds a doctorate in higher adult and lifelong education from Michigan State University; a master's degree in guidance and counseling from Texas A&M University-Kingsville; and a bachelor's degree in history education from Hampton University (Va.).