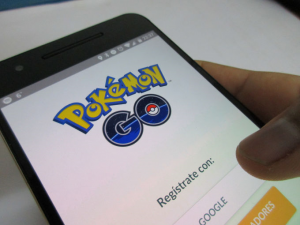 By: Michael Watts II
"Gotta catch e`m all" is the motto of the Pokémon franchise. To be able to go anywhere and catch all the Pokémon in the world is the dream of most Pokémon fans. Thanks to the Niantic Co., kids can now find them all on the Pokémon Go app.
Well, this fun game may be stealing your personal information.
According to Fox News, Sen. Al Franken, a Democrat from Minnesota wrote an open letter to the CEO of Niantic Co, John Hanke, asking for more information from the game-maker. In his letter, Sen. Franken points out that "Pokémon Go" has been downloaded about 7.5 million times. He also expresses concern about the extent to which Niantic may be collecting, using and sharing user's personal information without their appropriate consent.
Some of the information that the Pokémon Go app collects are your user location and they also request "Full access permission" to users Google accounts who log into the app by the use of their account. Why would this company need this type of account access just for a game?
How can this game get any worse than allegedly taking all of your personal information? It could become an insane addiction.
This new game has become a drug, and some of the people that are playing it are playing it in places that seem inappropriate.
Yahoo compiled a list of places where people should not play Pokémon Go. The places where people should not play Pokémon Go are Nuclear Power facilities, other people's houses, elementary schools and the church of Scientology.
The game should not be played while your wife is giving birth, visiting The White House, the Vatican, court rooms and a funeral home – just to name a few reminders.
Some monuments and memorials were the game should not be played include the Arlington National Cemetery and the U.S Holocaust Memorial Museum.
This game has become so addicting, an article from Fox News reported police officers in Missouri, have tracked down four teenagers that used the Pokémon Go to rob other people.
Reports also indicate that the game, not even released a full week yet has been used to commit crimes, invade hospitals, and has pissed off the entire nation of Germany.
People need to know that there is a time and place for catching Pokémon
Pokémon Go players have one thing to say about the game "Gotta catch e`m all."