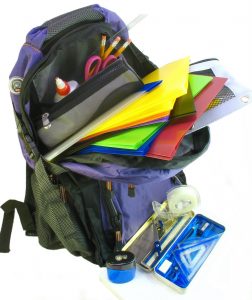 Dallas area schools are scheduled to start next week as thousands of students return to attend a new class. Buying new clothes, school supplies, and backpacks for a family of multiple children can be quite challenging. ICNA Relief Dallas, a local chapter of a national non-profit Islamic organization, pitched in to address this challenge and donated 500 school bags filled with essential school supplies. The backpacks were distributed at Elisha M. Pease Elementary School as parents gathered for "meet the teacher" night.
"Our goal is to empower students and their families through education and we do it by helping them out with their school supplies and backpack needs" said Hafizullah, Director ICNA Relief Dallas, Back2School program. He said "According to Prophet Muhammad acquiring knowledge is obligatory upon every Muslim. So we try to expand this blessing of education and knowledge to everyone regardless of faith, race, gender, and social status. We are responsible for raising a smart and educated next generation of American citizens and we as Muslims take this job seriously."
Principal Shavannia Dash is excited for the partnership this school year and thankful for this extremely generous offer.
"Our school strives to build partnerships with our parents and community.  We are so grateful for this donation in support of our students.  We know our kids are going to be so happy to receive these backpacks," Principal Dash shared.
In 2016, ICNA Relief Dallas distributed over 2000 backpacks and supplies having a value of over $30,000 in the DFW metroplex. Nationally, ICNA Relief USA distributed over 100,000 backpacks to families in need, which is worth well over $1.5M dollars.
Video – https://www.facebook.com/ICNARelief/videos/10154382406437770/