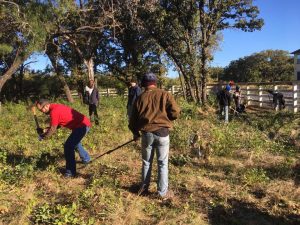 Community members are coming together again to continue the efforts to clean-up Shelton's Bear Creek Cemetery this weekend. The event is planned for 8 a.m. on Saturday, Dec. 10. The primary focus will be to paint the inside and outside of the fence surrounding the cemetery.
The North Dallas Gazette recently covered the Call to Action to clean-up last month, which was a tremendous success as we spotlighted in our follow-up report about the great turnout at the event.
Shelton Bear Creek Cemetery is a burial place that predates the end of the Civil War according to deeds researched by Bond. It was awarded a historical marker by the Texas Historical Commission, a state agency for historic preservation.
According to the marker designated by the Texas Historical Commission, Minnie Sheldon (Shelton), purchased 80 acres of land in 1879 for $130, then the Shelton family donated the property for a cemetery.  During the mid-1800's, African Americans were brought to the area as slaves, after the end of the Civil War many remained to begin their lives as Freedmen.
Anyone is invited to join them, please bring a paint brush or a roller if you can. They will have supplies on hand, but do not know how many are expected to attend and want to ensure everyone is able to work.
For more information, please contact Anthony Bond at 214-830-6719.