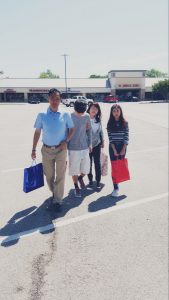 By Sis. Shirley Tarpley
2016 is behind us forever!  Some things God gives often, but He only gives "time" once.
The flowers of spring return new again and again.  The grass turn green, and trees burst into new foliage year after year.  But "time" does not come twice to anyone.
This is the start of a "New Year" you can learn from mistakes that were made last year to make positive changes in your life from this day forward.  You will be happier and so will those around you, because—
Life is short no matter how long we live, so use it wisely.  Life never seems to be enough no matter how long one gets to live.
I have never heard anyone (in the right frame of mind) say, "Ninety years is enough living for me, so I will just die now!"
Usually, people just don't speak like that when it comes to their life.  Generally, everybody wants to live to that ripe old age, and if we (only) had a say in how long we should stay, we would all shout, "Forever!"
It is true most of us love life!  What do we know about this thing we hold so dear?
1)  It is a gift from God.   2)  It is not ours to keep; it can be taken away at any time.   3)  It can be worthwhile or worthless (it depends on the individual.)
Here are some things to keep in mind and put an effort in doing in 2017.
First, we should keep Christ as our center.   Second, we should be grateful for the many blessings of the previous year.
We are not worthy of more from God if we are ungrateful for what He has given us.
Third, may we determine to be sympathetic toward all less fortunate than we are.  Having a soft heart is a big accomplishment.
Fourth, let us resolve to place the best reasonable construction on the words and deeds of others.
Fifth, let us build our life on the good foundation of loving God and our fellowman.
Those of us who are alive need to know that we are at the mercy of the
"Life-giver," He is God.
The time that we have been given should not be spent on trying to preserve this life, but fulfilling the purpose for which we were created.
Knowing that we all must go the way of the flesh, should hasten our resolve (especially now, a New Year) to put things in perspective.
Some of the questions you should be asking are, "What have I done with my life?  What do I want to do with the rest of my life?"
If this was your time to die, would your life be celebrated or mourned?  You are the one who will say how the rest of your life story plays out.
Will it be worthwhile or worthless, the choice is certainly yours to make.
 We may not always realize that everything we do, affects not only our lives, but also others, too!
For a little bit of thoughtfulness that shows someone you care creates a ray of sunshine for both of you to share.
Yes, every time you offer someone a helping hand—every time you show a friend you care and understand—
Every time you have a kind and gentle word to give, you help someone find beauty in this precious life we live.
For happiness bring happiness and love ways bring love; and giving is the treasure that contentment is made of.
A HAPPY AND BLESSED NEW YEAR TO ALL!