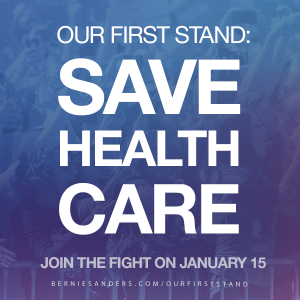 WARREN, Mich. – More than 8,000 people showed up Sunday at an outdoors rally at a community college on a freezing cold day as part of a massive, nationwide show of grassroots support for health care programs under attack by Republicans in Congress. Sens. Bernie Sanders, Charles E. Schumer, Debbie Stabenow and Gary Peters headlined the event, which included representatives from Michigan's congressional delegation, union leaders and people helped by the Affordable Care Act.
The day of action – "Our First Stand: Save Health Care" – was organized by Schumer, the Senate Democratic Leader, House Democratic Leader Nancy Pelosi of California and Sanders, the leader of outreach efforts for Senate Democrats. Tens of thousands of people attended more than 70 rallies around the country.
"On behalf of the children of this country, on behalf of the working people of this country, on behalf of middle class families who pay for their parents in nursing homes through Medicaid, what we are are saying to Republicans is if you want to improve the Affordable Care Act, let's do it together. But if you think you're simply going to throw millions off of health insurance, you've got another thing coming," Sanders told the crowd outside Macomb County Community College.
The rallies showcased opposition to plans to throw 30 million Americans off health insurance, privatize Medicare, make massive cuts in Medicaid, threaten nursing home care for seniors and raise already skyrocketing prescription drug prices.
"I say to my Republican colleagues: yeah, you're going to have to worry about Sen. Stabenow and Peters and all of us in the Senate and our friends in the House. But that's the least of your worries," Sanders added. "You're going to have to worry about millions of people who are standing up, who are fighting back and who demand a day when health care will be a right of all people, not just a privilege."