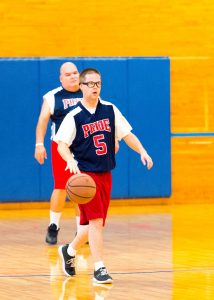 The largest Special Olympics Texas (SOTX) Area 10 Basketball Competition in the Lone Star State is underway in Garland this morning. Nearly 1,000 SOTX athletes from the Greater Dallas area, will show off their skills on the hardwood at six Garland ISD campuses. (Full list of locations below.) Play resumed this morning at 8 a.m. and will run until about 5 p.m. All contests are open to the public and free to attend.
This tournament features 3-on-3 and 5-on-5 play, including Unified teams, which are comprised of people with and without intellectual and developmental disabilities on the same team.
Players 12 and older will be competing as a means to qualify for the upcoming statewide tournament – Summer Games, which take place May 25-28 in Arlington.
This weekend's games will take place at the following locations: