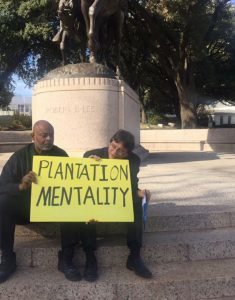 Straight Talk with Ed Gray, NDG Senior Columnist
I and some other historians led by Dr. Michael Phillips, collectively named "The Committee of Scholars" have engaged in probably the last Civil War battle in Dallas County. Wait a minute there have been no Civil War battles in Dallas County. However, if we are led to believe the numerous monuments, the South indeed has won the Civil War.
The Civil War fought between 1861-1865 has been romanticized by movies such as "Gone with the Wind", and statues that glorify the defenders of slavery and white supremacy as sentinels of America.
Through my studies and research at Southern Methodist University we have cataloged dozens of streets, monuments, and schools named after Confederate leaders. From the implicit to the explicit, the bias is clear, Texas is more southern than western.
We all know the Dallas myth of origin, that Dallas had no reason to exist. That it was founded on a river, and in a few short years Dallas would become the largest city in Texas, by the late 1800s. It was a city more eastern than Fort Worth which is where they claim the west begins.
Sounds good except it is not true, Dallas was founded as a commercial outpost for trade, and an efficient way to accumulate wealth was through slavery. Dallas supported the secession from the United States of America in overwhelming numbers, was sympathetic to southern customs.
In 1896, Dallas first honored its Confederate sympathies by erecting the first outside statues of art commemorating its gods. The gods of white supremacy, the leaders of the ill-fated Confederate States of America.
I and several other scholars, wish to write history correctly, instead of whitewashing it incorrectly. The statues have a place in our history, in a museum where the history of the Confederacy can be told in black and white. Pun intended.
Perhaps it's the history of the Confederacy with its hero, General Robert E. Lee mounted on the horse that we can learn about his barbaric attitude toward the African -Americans he enslaved. The stern visage of Lee that stands guard over Lee Park is a reminder of a bygone era. As African immigrants wed at Arlington Hall which is a replica of the former Virginia home of General Robert E. Lee, I wonder if these wedding guests realize black Dallasites were once forbidden to enter the park.
The city of Dallas administers Lee Park along with the Lee Park and Arlington Conservatory. This consortium is a coalition of the Dallas Southern Memorial Association, Turtle Creek Association, Oak Lawn Forum, The Oak Lawn Committee, and The Turtle Creek Guild. The park is ingrained into Dallas history and social circles.
Though the park was not always named Lee Park. The park was originally named Oak Lawn Park and according to southern customs and Dallas city ordinances, African-American citizens were not allowed entrance. Lee Park has always been one of the premier parks in the Dallas Parks system.
Lee Park originally named Oak Lawn Park was dedicated by President Franklin Roosevelt, who in a show of support for white supremacy, and the lost cause of the Confederacy extolled the virtues of one of its foremost leaders. Oak Lawn Park was then, as it is now, a symbol of southern genteel and charm honoring a traitorous, rebel army, hell bent in a sanctimonious display of white supremacy.
Confederate monuments are not only at Oak Lawn Park, they are also embedded into Dallas history at Pioneer Park Cemetery. The Confederate monuments have had a long history in Dallas with its resting place at the Pioneer Park in downtown Dallas.
Generals Robert E. Lee, Albert Sidney Johnston, and Stonewall Jackson, and Confederate President Jefferson Davis were originally located at what is now Old City Park, formerly Sullivan Park. The dedication of the Confederate statues occurred in 1896 and was witnessed by several Confederate veterans, and several thousand Dallas citizens.
The Confederate Memorial, an obelisk quartered with the statues of the Confederates, bear silent witness to Dallas' history regarding its treatment of African American citizens. This monument was moved from City Park in 1961 to its current location adjacent to the Dallas Convention Center. The move was made because of the construction of RL Thornton Freeway.
Today there is a debate on whether to remove these statues in their coveted places of honor in Oak Lawn Park and Pioneer Cemetery to a more fitting location. Historians like myself believe that these statues must come down.
Ironically there is a Confederate Cemetery in South Dallas off Malcolm X Boulevard. Perhaps these monuments would be relocated there, the irony of the moment for this historian cannot be overstated. In a fitting end indeed, this would be a most ignoble defeat for the lost cause.
Perhaps they belong in a museum where historians can teach the history of these men who once disavowed allegiance to the United States. This might be a proper destination for a cause that is unAmerican. Wherever the trip for these symbols of hatred, they must be moved.
We must not be politically correct, but morally correct, slavery is the African-American's Holocaust. Though we cannot deny slavery existed, we certainly can deny the defenders and protectors of slavery a place of honor in the halls of history.
I am Ed Gray and this is straight talk.
Gray has an Associate of Applied Sciences, from El Centro Community College. He also has Bachelor of Arts in Sociology, from Southern Methodist University, a Masters of Liberal Studies in History, from Southern Methodist University, and is currently a doctoral student at Southern Methodist University in the field of Human Rights.
Ed Gray is one of the founders of "The Committee of Scholars", the Dallas-Fort Worth academic professors and graduate professionals in history. The Committee of Scholars is currently leading the fight to remove Confederate symbolism in Dallas, Texas.