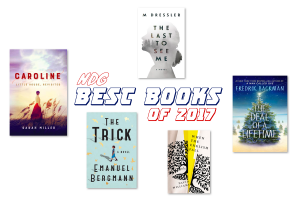 By Terri Schlichenmeyer
Trust me on this: when you read more than 300 books a year, you come across some books that are not-so-good. Thankfully, you come across more of them that are good, great, or even stellar. Here's my list of the Best of 2017, those things that you absolutely can not miss, the books you should want in your hands now, in no certain order…
FICTION:
Anyone who's read the Little House on the Prairie books and loved them will want to read Caroline: Little House, Revisited by Sarah Miller. This book imagines the thoughts and dreams of Laura Ingalls' mother; the surprise is that Miller lets Caroline Ingalls be frustrated, angry, and real.
For those who need a good scare, The Last to See Me by M Dressler is what you need. Narrated by a woman who's dead-not-dead, it's a cat-and-mouse tale of a "hunter" who comes to rid an old mansion of a mischievous spirit. But does he have the right spirit?  Gotta find out for yourself.
Everything about The Trick by Emanuel Bergmann is going to captivate you. Everything. It's the story of an old man who lived a full, tumultuous, dangerous life; and a little boy who's losing what he loves best and decides to trust the most unlikely person to fix it. It's about love, most of all, but it's not sappy – it's funny and charming and you can't miss it.
Here's another chiller, but for a different reason: When the English Fall by David Williams. It's the story of the end of the world, told from the point-of-view of a quiet, introspective Amish man. It's one of those "what if—?" novels, with a slight twist of the weird. The ending will leave you squirming, so what's not to love?
And finally – a Christmas tale that can be read any time: The Deal of a Lifetime by Frederick Backman is the story of a man who hates Christmas because of all the horrible things that have happened in his life. What would he give to make the holiday better?  Read this under-70-page book but bring the tissues. That is all.
Bonus: One Good Mama Bone by Bren McClain and The Ada Decades by Paula Martinac were close runners-up. The first is about a mother's love; the second is a look at history through the eyes of two lesbian women. Both are worth a second look.
NON-FICTION:
Have you ever wondered where your feet have been?  That may be an odd question, until you've read The Ground Beneath Us by Paul Bogard. Indeed, this book is about dirt but that's not all: you'll read what that dirt consists of, what else is down there, how scientists find fossils and remains, what keeps our ground stable (or doesn't) and what comes from what's below.
There never seems to be an end to the ubiquitous Hollywood biography, but Hank & Jim: The Fifty-Year Friendship of Henry Fonda and James Stewart by Scott Eyman is a keeper. It's warm and funny, but also very sad and poignant. This book will give you lots of insight, not only to these two stars and their families, but also how Hollywood used to work, back in its heyday.
For the reader who loves a cheer-worthy story, Never Caught by Erica Armstrong Dumbar is the story of Oney, who was owned by George Washington. Through a series of laws, Washington tried to keep her enslaved but she was smarter than he thought. Not only did she escape, but she stayed free right beneath his nose. It's a tale that will make you outraged, but it'll also amaze you.
Here's a surprise: Scores by Michael D. Blutrich. It's the true story of a gay man who ran his New York City nightclub with help from the Italian mafia. When he was arrested for something totally unrelated, he decided to work with authorities to shut the mob down. Just a little bit dangerous?  Yep, and a rompish can't-miss, too.
Another pleasant surprise was The Long Haul by Finn Murphy. It's a slice-of-life look at over-the-road trucking, including some of those kinds of stories you'd ask a trucker, if you could. For the curious, it's a must-have.
KIDS BOOKS:
Just three of them: With bullying in the news, your child will want to read Dirt by Denise Gosliner Orenstein – especially if she's an animal lover. This novel is about a little girl who lives in poverty and thus is essentially invisible. She's okay with that, until her father falls ill and goes to the hospital and she's alone. Then she finds a filthy, matted pony who won't go home. What happens next will captivate any 7-to-12-year-old.
The Song from Somewhere Else by A.F. Harrold, illustrated by Levi Pinfold is another book with bullying at its theme. It's the story of a little girl who befriends a friendless boy from school – but that doesn't make her very popular. Get this book for your older-elementary-school-to-early-middle-schooler, but read it yourself first. You'll love it, too.
And finally, They Both Die at The End by Adam Silvera is a tale of two teenage boys that will die today. Death-Cast has told them so – and so, what will they do with their final day?  There's fun in this book, a few laughs, a bit of surprise romance, and a tale that will make anyone 14 and older think about living life to the fullest.
And there you are. A pile o'books to get you started for the new year. Look for them all and Season's Readings!