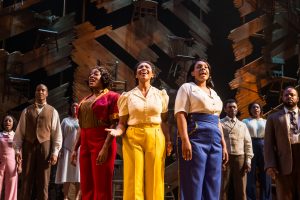 By Traci Austin, NDG Special Contributor
Since 2005, THE COLOR PURPLE has been telling a powerful tale of survival and now against the backdrop of the #metoo movement, the stirring truth of THE COLOR PURPLE rings louder today than ever.
The touring production of The Color Purple, presented by Dallas Summer Musicals at the Music Hall at Fair Park, opens with McKinney, Texas' hometown girl Adrianna Hicks as 14-year-old Celie with N'Jameh Camara as Nettie singing "Huckleberry Pie" which pours into "Mysterious Ways."
The Greek chorus of the Church Ladies and Mister's Boys paints a complicated and rich picture. Which is a stark contrast to the simple set comprised of a towering trellis that gives rise to chairs which seem to summon women to take a seat and force the world to have an honest conversation about gender, sexuality, race and violence against women.
The show is not a carbon copy of the Steven Spielberg's movie or the original Broadway production.  But make no mistake; the show is a unique and luminous portrait of a well-known story. You will leave the performance having experienced Cellie's journey to "wearing the pants" in a whole new way.
The break-out performances of the night are provided by Adrianna Hicks as Shug Avery and Carrie Compere as Sofia.  Both women can just "SANG" as the old folks would say. Notes fly off Hick's lips and ring in your ears like wind chimes on a Southern front porch. Her portrayal of Shug Avery is tender yet vulnerable.  And Compere's voice is straight from the Deaconess' row at a rural church; inspiring and pleading God for a change.
THE COLOR PURPLE continues through this Sunday, Feb. 4. Tickets and more information can be found at www.DallasSummerMusicals.org.