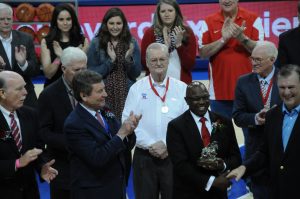 Southern Methodist University (SMU) presented its annual Silver Anniversary Mustang Award (SAM) to alumnus and Dallas City Councilmember Tennell Atkins. The SMU Letterman's Association selects recipients of the SAM award. Awardees must have graduated 25 years from the University prior to receiving the award and are selected based on making a significant positive and lasting impact on the community.
Councilmember Atkins graduated from SMU's Cox School of Business in 1978 and lettered as a scholar-athlete while playing football for the University.
SMU President Dr. R. Gerald Turner and Director of Athletics Rick Hart presented the award to Councilmember Atkins on Saturday, Jan. 20 at halftime during the SMU men's basketball game versus Tulane.
Atkins serves on the Dallas City Council representing District 8 after winning a runoff election last June. He previously represented the district from 2007 to 2015. During his tenure, he served as mayor pro tempore from 2013 to 2015.