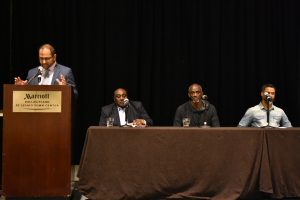 By: Rachel Hawkins, NDG Staff Writer
It all started with a book, and then an idea.
Furqan Sunny Azhar is a man who wanted to bring light and awareness to a not-so-simple situation called social and racial injustice. It all began when he read a book called The Long Shot, by Craig Hodges. Because of this, he wanted to explore the ideas, topics, and deep meanings of what this not only means to sports players, but to average people in their everyday lives, and he decided to do this in a simple way. Through conversation.
On Saturday morning of April 14, a conference room began to fill with ages of young and old at Marriott at Legacy Town Center, in Plano. They came for one simple thing, answers. The audience wanted answers to the entire situation at hand and the meaning on how and why this continues to occur in our everyday society.
This event was split into four sessions where afterward, the audience was invited to engage, comment, and ask questions.
"This topic is so important, mainly because of the Collen Kaepernick movement, and what it means to the broader social justice movement," Azhar, creator of the event said. "Now is the time. Social justice movements are always timely, but when we talk about sports and social justice we have to empower athletics, and we have to talk about the important platform they have."
Kaepernick, a 49ers quarterback shocked the world when he quietly sat down during the national anthem.  When asked he responded, "I am not going to stand up to show pride in a flag for a country which oppresses black people and people of color." Since then, he has been heavily invested in various social justice movements across the nation.
"That's a myth, and we need to understand athletics have an important, voice, and empowering them to exercise their voice is extremely important if we're going to bring about social change," Azhar said.
Azhar's goals were to inform people the ideas or the misconception sports being disassociated from politics, should be dispelled.
"I went through college from being on the cover of magazines, being interviewed and achieving many accomplishments but yet I still looked at myself as being inadequate and inferior because I was raised in a situation to think less of myself," Mahmoud Abdul Rauf former NBA player said. "I remember scoring 53 points after one of my games and crying because I thought something bad was going to happen to me because things like that just don't happen to people.
"This was because of the images and messages society gave me every day," Rauf former said. "When I read the autobiography of Malcolm I got angry, but then I realized the worst thing that can happen to a human being is destroying a sense of knowledge itself, their persons and their culture because you always become susceptible to someone else interpretations of who you are.  That's when I realized, if I had known about this back then, I wouldn't have thought of myself that way."
Azhar decided to reach out to Craig and tell him Dallas needed to hear his message.
"I was put a mission early in life to become an activist," Craig Hodges, former NBA player said. "Not really knowing where it would take me, I realized the more information I got, the more knowledge I'd received.
"America has always encouraged communication action, where you would solve your problems by talking about it, but not necessarily showing your rage," Hodges said. "But when you look at the past groups like the Black Panther, they wanted to show their rage, and they used it as a political instrument. When you take drastic steps, it forces people to listen to you a little bit more than just sitting around and talking about it."
What captivated Azhar the most throughout The Long Shot was the powerful women in Hodges' life and how they were instrumental in his upbringing and demanded he have a higher sense of conscientiousness.
"Sports in many ways is what drives this country," said Wise. "It suggests sports is essential to how we understand ourselves, and it is a reflection of who we are and where we are as a nation. The movement is trying to remind us not everyone is experiencing the justice system the same. Not everyone is experiencing the school system, or the labor market or even the housing market the same. And until we do, protesting not only becomes necessary but critical."
Dr. Marc H, Ellis, Heather Mustain, Mustafa Carroll, and Joy Stephens were also invited to speak at the national conversation.
"It's the 50th anniversary of our social justice champion Dr. Martin Luther King Jr," Azhar said. "I don't want people to lose an understanding of the Civil Rights movement, and what it means today. I would hope people reflect and think about where we came from and how much further we still have to go."