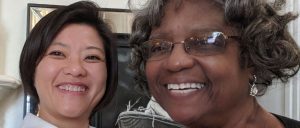 By: Sister Tarpley, NDG Religion Editor
"Then Jesus was led up by the Spirit into the wilderness to be tempted by the devil" (Matthew 4:1).
Jesus was led into the desert by the Spirit to be tempted by Satan! After 40 days of fasting, when Jesus was at his weakest physically, Satan came to Him. He tempted Jesus in three areas where you and I are most tempted. Why would the Father require this? Jesus needed to affirm to Satan who He was and from whom He gained His authority and provision.
Our Identity – "'If You are the Son of God, throw Yourself down. For it is written: "He shall give His angels charge over you," and, "In their hands they shall bear you up, Lest you dash your foot against a stone."' Jesus said to him, 'It is written again, 'You shall not tempt the LORD your God.'" Jesus understood His identity and refused to allow Satan to redefine Him. Do not allow Satan to define your identity from anyone or anything other than God.
Our Authority – "Again, the devil took Jesus up on an exceedingly high mountain and showed Him all the kingdoms of the world and their glory. And he said to Him, 'All these things I will give You if You will fall down and worship me.' Jesus said to him, 'Away from me, Satan! For it is written: 'Worship the Lord your God, and serve him only.'" Jesus' authority was rooted in doing only what He saw the Father do. He did not use fleshly authority.
Our Source of Provision – "And when He had fasted forty days and forty nights, afterward He was hungry. Now when the tempter came to Him, he said, 'If You are the Son of God, command that these stones become bread.' But He answered and said, 'It is written, "Man shall not live by bread alone, but by every word that proceeds from the mouth of God."'"
Have you ever felt that serving God had little reward and the ungodly seemed actually to be more blessed than you? This is what the people of God felt. God heard their cry and responded through the prophet Malachi to explain God's view on this matter.
Then those who feared the Lord talked with each other, and the Lord listened and heard. A scroll of remembrance was written in His presence concerning those who feared the Lord and honored His name. "They will be Mine," says the Lord Almighty, "in the day when I take up My treasured possession. I will spare them, just as in compassion a man spares his son who serves him. And you will again see the distinction between the righteous and the wicked, between those who serve God and those who do not" (Malachi 3:16-18).
There is a day coming in which God will honor His "treasured possessions." We will see that there is a distinction between the righteous and the wicked on that day when "the sun of righteousness will rise with healing in its wings. And you will go out and leap like calves released from the stall" (Malachi 4:2). What a beautiful picture of what we will feel like on that day.
God rewards faithful obedience. It often requires patience, suffering, and perseverance. Be of good cheer; He will reward you if you faint not.
Today, realize your identify resides in being a son or daughter of your Heavenly Father. Your authority resides in being led by the Holy Spirit and your provision comes from your Heavenly Father.