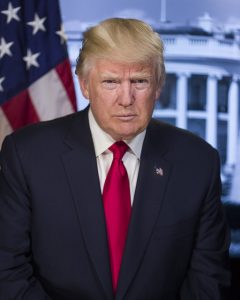 Straight Talk with Ed Gray

The Donald J. Trump Administration is making former President Richard Nixon look more like a statesman. The Republican Party has campaigned and won elections on being the political party that has been for law and order. This is a concept that no one is above the law, which is not a concept, it is a reality.
The investigations that have been conducted towards Trump also known as Individual 1 (as identified by the criminal investigators of the Southern District of New York) report a troubling trend of possible criminality. For folks outside of New York, the Southern District of New York is the office responsible for investigating the Mafia.

This is not saying that President Donald Trump is a criminal, it is saying they are investigating him like a criminal. Only a courtroom can convict, but with the shrinking popularity, maybe the Republicans who have sold out law and order for disarray and confusion.

Last week, Senator Jeff Flake, the Republican Senator from Arizona warned of threats to democracy from "within and without." I don't think that Senator Flake was talking about First Lady Melania Trump's china selection. The purpose of his farewell speech was to warn, however, while in office he could have been more vocal. The mute, deaf, and blind Republican Party has sold out in favor of conservative values instead of American values.

American values that promote diversity have been pushed aside to promote White Nationalism. If you think I'm exaggerating, remember President Trump, also known as "Individual 1" used the dog whistles of Charlottesville. The Charlottesville White Nationalist Riots resulted in the loss of life and injuries to anti-White Nationalist protesters. Trump made his stand like General Robert E. Lee. The statement "there are some very fine people on both sides," gave approval of this in his 2017 Inaugural Speech, "American Carnage."

"American Carnage" means that there is violence directed against our laws and order. "American Carnage" means that there is literally blood in our streets. "American Carnage" means that our economy is in the red. "American Carnage" means that law institutions such as the Federal Bureau of Investigation are threatened. "American Carnage" must end, as we turn our thoughts to a "Merry Christmas" and a "Happy New Year," we realized that we survived yet another year.
Let us end "American Carnage" and take back our country.
I am Ed Gray and this is Straight Talk.

Ed Gray is a presidential scholar at Southern Methodist University. He is the host of The Commish Radio Show airing Saturdays 3-5 p.m. on FBRN.net, can be reached at eegray62@att.net. NDG was awarded NNPA's 2018 Robert S. Abbott Best Editorial for Gray's "Confederate Statues: The White Man's Burden" column.