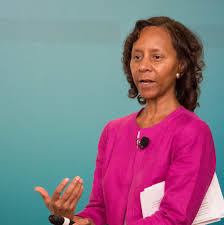 By Sis. Tarpley, NDG Religion Editor
The 2019 Women's History Month theme is "Visionary Women: Champions of Peace & Nonviolence." The theme honors "women who have led efforts to end war, violence, and injustice and pioneered the use of nonviolence to change society."
A nonprofit educational organization founded in 1980 to bring women's stories and contributions to the fore.
The project was the force behind getting Congress to designate Women's History Month officially.  And, I acknowledge Black women only.
Marian R. Croak is Senior Vice President of Applications and Services Infrastructure. Named to that role in 2012, she is responsible for a team of more than 2,000 developers, engineers and program managers who manage over 500 programs impacting AT&T's enterprise, consumer, and mobility services and create the tools developers inside and outside AT&T are using to build new apps and services. Her team is tightly integrated with the AT&T Foundry® innovation centers in Palo Alto, Calif., Plano, Texas, and Ra'anana, Israel.
Activist was a driving force in the creation of the country's premier civil rights organizations.
After graduating as valedictorian from North Carolina's Shaw University in 1927, Baker moved to New York City during the depression.
She was a founding member of the Young Negroes Cooperative League, whose members pooled funds to buy products and services at reduced cost.
In 1957 Baker and several Southern Black ministers and activists established the Southern Christian Leadership Conference, a major force in organizing the civil rights movement.
Henrietta Mahim Bradberry was born in Franklin, Kentucky in 1903. This Black innovator was a housewife and inventor who held two patents. The first, for a bed rack attachment that allowed for the airing-out of clothes. Then Henrietta converted the rack into a new way for torpedoes to be shot from submarines!
Bessie Coleman, the first Black American woman aviator, had a postage stamp issued in her honor in 1995.
Ethel L. Payne was the first Black woman to receive accreditation as a White House correspondent.
Susan Knox's fluting iron made pressing the embellishments easier.  The trademark featured the inventor's picture and appeared on each iron. Ruffles, fluted collars, and pleats were very popular in Victorian-era clothing.
Evelyn Ashford, winner of four Olympic gold medals in 1984, 1988, and 1982. Also won a silver medal in 1988 and was inducted into Track and Field and Women's Sports Hall of Fame in 1997.
Two famous quotations by Ashford: "I take pride in everything I do. I don't want to be handed anything. I want to earn it."
"I can't run forever. I decided to go back to school for my degree because I know now there's more to life than track."