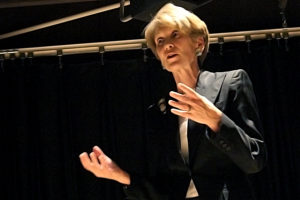 By David Wilfong, NDG Contributing Writer
It was a rather quiet Monday Night Politics at the African American Museum in Fair Park on April 8, as the forum — hosted by the Dallas Examiner — took a look at three districts outside the South Dallas sector. This week's gathering focused on Districts 6, 13 and 14.
District 6 was the first race on the floor, and the race features a former councilmember, Monica Alonzo, looking to return to the horseshoes by unseating incumbent Omar Narvaez. Tony Carrillo is also challenging the incumbent. Narvaez was not present at the forum.
Alonzo was defeated by Narvaez in the last city council election and took sharp aim at the current councilmember in addressing the audience.
"I am a former councilmember and wanting to seek this position because there's no representation at city hall right now for District 6," Alonzo said. "And I wanted to make sure that we get back to basics and start working with the community, whether it's neighborhood community or business community. To get the work done for not only the city, the district, but also for our future generation's quality of life that we want to have in Dallas, Texas."
As an example of what she sees as ignoring the needs of the community, she accused Narvaez of siding with business interests and failing to protect nearby residents from gentrification in the development of the Trinity Groves business district.
Carrillo, who ran in the last election in District 6, grew up in West Dallas except for a short time in Oak Cliff as a child. He says there is a lot of corruption going on, and pandering to wealthy interests which are tearing up the community.
"I know what it's like to live in the projects and things like that," Carrillo said. "I see a lot of that in West Dallas. I see how these multi-million dollar organizations, where they move in and I see them at these business meetings. They just want to take over our neighborhoods, and I'm going to make a priority to try to save these houses."
Carrillo proposed a lottery system to "adopt" one or two houses a year, bring them up to code and keep West Dallas residents in the neighborhood.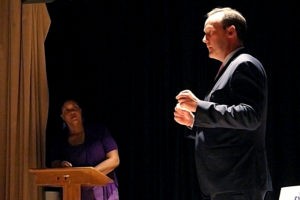 In District 14, incumbent Philip Kingston faces two challengers; David Blewett and Warren Johnson. The challengers were not present at the forum, and Kingston said their absence was noteworthy as he stated both challengers had been opposed to Kingston's calls to remove Confederate statues from city property and changing the names of DISD schools named for Confederate veterans. He added that one of them even filed a lawsuit to keep it from happening.
"I'm not saying that's why they're not here, but I do know those two things to be facts," Kingston said.
Kingston, not known for his shyness on the council, also addressed his nominating of Sandy Greyson as Mayor Pro Tem. The nomination came at a time when there was no sitting councilmember from District 4 and drew criticism from some in the African-American community as there had been a tradition of having a Black member in the position when there was a White mayor.
"Well, I was specifically referring to Casey Thomas being an inappropriate person to fill that role because he does not have a reputation for integrity," Kingston said. "He does not have a reputation for strong leadership. And so perhaps I should have just said that. I mean that couldn't have been misconstrued. Right? But I was specifically referring to not having Casey. Then I actually voted for Tennell (Atkins)."
Kingston pledged to accelerate what he calls "justice and equity work" if re-elected for another term on the Dallas City Council.
The final presentation of the evening was in District 13, where incumbent Jennifer Staubach Gates faces a challenge from former Dallas Mayor Laura Miller. Gates was not able to attend the forum, giving Miller the floor for the entire segment.
"I am the first Mayor of Dallas to ever run for the Dallas City Council," Miller joked with the audience at the beginning of her presentation. "I don't have extraordinary political ambitions, because I'm not going up. I'm running for council."
Miller said she is running because she is a homeowner and is very frustrated with what is happening in the neighborhoods around where she lives. She has been assisting homeowners in zoning and development cases for the past six years and says returning as a councilmember is her best option for addressing the problems.
She was, once again, asked about how Dallas lost the stadium deal to Arlington to serve as the home field for the Dallas Cowboys. She recalled negotiations with Jerry Jones, and how his desires and requirements were too big for what Dallas was willing to give. Arlington, on the other hand, was ready to make more concessions for the NFL franchise — including homeowners being removed from the area by eminent domain, and special tax usage — than what Miller was willing to ask of Dallas residents.
"They spend their money on stadiums, and we spend our money on public transit," Miller concluded.
Housing issues being at the heart of her latest run, Miller addressed gentrification questions from the audience by calling for a wide range of home ownership levels, and single and multi-family housing options, to be spread throughout the entire city. She said there would be a different focus for her as a member of the council there was when she served as mayor.
"I look forward to whoever the council is, and whatever their needs are," Miller said. "I look forward to helping all homeowners city-wide. I'm full of energy, and I'm full of passion, and I care a lot. And that's why I'm running."
The Dallas City Council election will be held on May 4, with early voting beginning on April 22. Monday Night Politics will resume on March 15. It starts at 6 p.m. at the African American Museum in Fair Park and is free to the public.
Story Updated on April 24 to correct the race involving Laura Miller and Jennifer Staubach Gates is for Dallas City Council District 13.