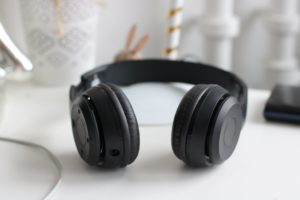 Sponsored Content
Our audio listening world is giving us the sweetest music due to the progressive advances in ear-wear technology. Headphones, earphones, and headsets serve similar functions, and you will be excited to know that they do much more than the traditional role of playing music.
Are there any differences between headsets, headphones, and earphones?
Let us quickly look at any differences between the three gadgets and explore the possibilities, also available on the website here, for what you have to look forward to in 2019.
Headphones
and headsets
Headphones and headsets are relatively easy to identify. They have padded earmuffs that encase speakers. The main difference is that headsets also have a microphone attached to help you with voice communication. The earmuffs work to reduce outside noise as well as direct the sound to your ear in a personal way.
Earphones
Earphones are made to sit inside the wearer's ear and provide an intimate and direct audio experience. They have wings that help them sit firmly and help with blocking outside noise from interrupting your listening pleasure.
New trends

in ear-wear
Making calls
without a smartphone
The exciting news is that these gadgets can do much more than only play music. They can now make calls as well as keep track of your heart rate and various other features, without connecting to a smartphone. They come fitted with a smart cloud platform and IoT sensor, which gives them this edge to let you hold phone conversations and listen to music.
Your headset will allow you to do several tasks simultaneously. For instance, keep track of your physical exertion by measuring your distance traveled, your heart rate, and hold a conversation. However, when you want to pair it with your smartphone, it will work just as well.
Compact size
and wireless
Gone is the bulk, and you have the choice of smaller and more compact designs that will not keep sliding or falling off when you are at the gym.
The bonus of having wireless ear–wear means that the aesthetics are tidier and allow you to strike the right note with your audio listening experience and environment.
They are Smart 'cookies'
Ear–wear development has made some smart devices that have smart assistant integration. When they find a compatible connection, they will link up using their optical sensors and allow you to carry on listening to your music. You can use your compatible assistant, for instance, Siri to adjust your volume levels.
Translation services
If you get a job offer abroad or are contemplating a holiday in an exotic country anywhere in the world, you do not have to hesitate to travel. With the right set of ear–wear, you will have a personal real-time translator, whispering to you from a range of languages and dialects.
Motion sensors
for when you remove
and put on the headset
Life is getting that much easier with headset owners. Inbuilt motion sensors detect when you remove or put them on. They will immediately pause and restart your music in tandem with your action.
Waterproof
For the swimmers and outdoorsy aficionados, you can confidently acquire a waterproof headset and continue to use it in the pool while still receiving quality auditory performance. The pedometer will record your biometrics data and keep you updated with how many calories you have burned, your heart rate, and so on.
Final thoughts
You have enough reason to be thrilled that your audio listening experience is undoubtedly looking out to improve your life and work. You have many options to choose a comfortable and safe headset.