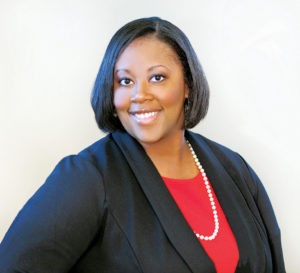 AUSTIN — Britney Harrison of Dallas was elected Texas Young Lawyers Association (TYLA) and will serve as president from June 2020 to June 2021. Texas attorneys elected Larry P. McDougal Sr. of Richmond to be president-elect of the State Bar of Texas. Harrison received 59 percent of the 4,550 votes cast, while her opponent, Tim Newman, also of Dallas, received 40 percent. Write-in candidates accounted for 1 percent of the votes cast.
Harrison is currently the vice president of TYLA. She began serving on the TYLA Board of Directors in 2016 as an at-large director. Harrison has contributed to and led several TYLA projects, including the Divorce Guide for Teens, Not a Victim, Free From Violence, and the FMLA Guide for Employers. In 2017, she received the TYLA Keith L. Krueger Leadership Award for her commitment to integrity and public service and in 2018 the President's Award of Merit for her significant contributions to TYLA.
Her legal career began in Austin after graduating from the University of Texas School of Law. She is a family law practitioner at GoransonBain Ausley in Dallas. Harrison began her bar service through the Austin Black Lawyers Association, for which she served as vice president. She was a director for the Austin Young Lawyers Association, participated in the Austin Bar/AYLA Leadership Academy, and is a LeadershipSBOT graduate. Harrison is also a Texas Bar Foundation Fellow.
McDougal received 52 percent of the 24,252 votes cast during the month-long voting period that ended April 30. His opponent Jeanne Cezanne "Cezy" Collins of El Paso received 47 percent of the votes. Write-in candidates accounted for less than 1 percent of the votes cast. He will be sworn in as president-elect during the State Bar's Annual Meeting on June 14 in Austin and will serve as president of the State Bar of Texas from June 2020 to June 2021.
For Mcdougall law is a family business. He is certified in criminal law by the Texas Board of Legal Specialization and the founder of a namesake law office where he practices with his son. McDougal has previously served as a police officer, firefighter, and an assistant district attorney.