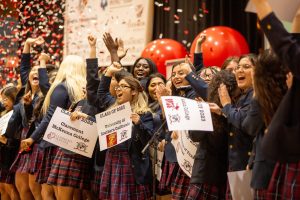 Young Women's Preparatory Network (YWPN), the largest network of all-girls public schools in the nation, held a College Signing Day event at Irma Rangel Young Women's Leadership School in Dallas to celebrate the graduation and college selection of more than 60 seniors. The girls celebrated their college selections in front of family, friends and special guests.
"This fall, I am attending The University of Texas at Arlington as a Terry and Honor student. Senior Signing Day for me is not only a way to express and share my joy with the Class of 2019 but to encourage other classes that they can also achieve," said Irma Rangel student Jacqueline Hernandez, who will attend the University of Texas – Arlington in the fall. "Senior year was a gateway for me to step into new challenges of applying for colleges and scholarships. I am excited to show on Senior Singing Day how challenges are worth the fight."
2019 Graduating Senior Class Statistics
61: The number of girls graduating – 100 percent of the senior class
48 (79%) are first generation college students
25 (41%) are first generation high school graduates
100% of seniors were admitted to a 4-year institution
The graduates were offered $6 million in scholarships to-date to these colleges and universities
113 colleges and universities have extended offers of admission to at least one student in the Class of 2019.
The first graduate in Irma Rangel history will go directly to an international institution for college at Yonsei University, Underwood International College in South Korea.
One graduate is a Grissom Scholar at Centre College (only 10 are awarded nationally).
Three students are Terry Foundation Scholars who will attend UT Arlington, Sam Houston State University and the University of Texas at Dallas.
One member of the senior class is the only senior in the country to be offered the Goizueta Scholar at Agnes Scott College.
19 students received State Fair of Texas scholarships.
One student was offered the Richard D. Cohen Scholar at Boston University.