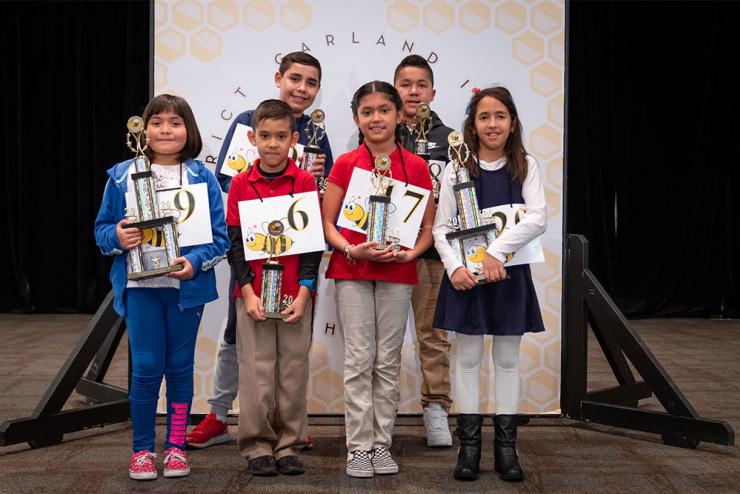 This year's Garland ISD Spelling Bee featured fierce competitors, proud parents, and four first-place winners. The number of winners isn't a sign of a tie, but the result of a new Garland ISD competition. For the first time in district history, GISD hosted both an English and Spanish Spelling Bee in January.
Like its English counterpart, the Spanish Spelling Bee requires students to win at the campus level in order to move on to the district round. The big difference: students in third-eighth grade don't compete against each other for one title. There are three competitions within the Spanish Spelling Bee, naming one winner each for third grade, fourth-fifth grade, and sixth-eighth grade categories.
Competition day started with the English Spelling Bee, where challengers battled for nine intense rounds. Jackson Technology Center for Math & Science sixth-grader Leah George snagged first place with the word consortium.
After going head-to-head for five rounds and correctly spelling amar, Southgate Elementary School's Kimberly Mendoza won the third-grade Spanish Spelling Bee. Roach Elementary School fifth-grader María González then claimed the fourth-fifth grade No. 1 spot with excelsitud, and Jackson Technology Center for Math & Science seventh-grader Brandon Medrano secured first-place in the sixth-eighth-grade category with electrocardiograma.
Congratulations and good luck to all winners and the following runners-up who will compete in either the Dallas County Public School Spelling Bee Feb. 19 or Region 10 Spanish Spelling Bee April 25.
English Spelling Bee runners-up
Valerie Semprun – Dorsey Elementary School
Angel George – Shugart Elementary School
Carden Nguyen – Spring Creek Elementary School
Tripat Gill – Watson Technology for Math & Science
Sherry Nguyen – Austin Academy for Excellence
[Name Withheld] – Hudson Middle School
Spanish Spelling Bee runners-up
Matthew Martin – Hickman Elementary School
Yamileth Becerra – Golden Meadows Elementary School
Geovany Flores – Memorial Pathway Academy
Photos courtesy of Dave Burton.