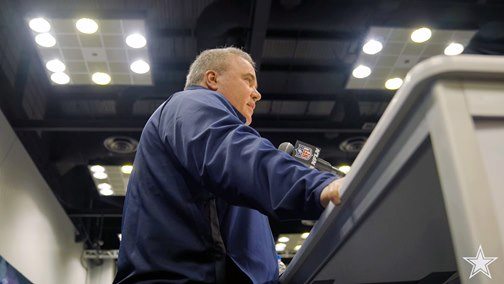 By Ruth Ferguson, NDG Editor
Unless they make a trade, the Dallas Cowboys have a first-round choice in the 17th slot. The Cowboys are tied for second in the league (New England) with 43 compensatory draft picks awarded from 1994-2020, and they have one in this year's draft (179th overall).
Experts have debated whether the Cowboys will choose a receiver, a quarterback for the future, or a defensive player. No one knows for sure. Due to COVID-19, the top prospects did not have an opportunity to visit The Star and meet with coaches and team officials. Even the internal meetings were virtual.
"The process has been going strong for three weeks," McCarthy told ESPN. "I give our IT department so much credit for keeping us updated with new instruments to make sure we can communicate clearly. It's been very productive. We're all in our homes. We spend a lot of times going through each and every prospect, so it's given us a chance to take a couple of laps through the draft board, especially for the first time going through it with Jerry and Stephen and the personnel staff. It's been very organized. I've been very impressed."
Fans should not assume that if a quarterback is selected, it is intended to send a message to Dak Prescott, who the team designated a franchise player as negotiations continue to drag on. Drafting a quarterback would be a matter of taking advantage of the talent available.
NFL Draft Notes
The 2020 NFL Draft will be presented across ABC, ESPN, and NFL Network on April 23 25 – for a multi-network presentation for all seven rounds.
The 2020 NFL Draft will serve as a three-day virtual fundraiser benefiting six charities that are battling the spread of COVID-19 and delivering relief to millions in need. The National Football League, ESPN, and ABC hope the 2020 NFL Draft will bring fans a small but welcome diversion in the middle of a difficult and unprecedented time.
There will be a total of 255 selections in this year's draft, including 32 compensatory choices awarded to 15 teams that suffered a net loss of certain quality unrestricted free agents last year.