By Jackie Hardy
NDG Contributing Writer
Since 2019, native Texan and pitcher, Taylor Hearn has been wearing number 52 for the Texas Rangers after advancing from the Frisco RoughRiders minor league team in 2018.
He's grateful to be able to play for a team that is in his home state because it allows his beloved parents the opportunity to attend his games as he shared with North Dallas Gazette via a Zoom interview.
"My parents have not seen me play in a longtime; they're so use to seeing me play on a computer screen. It was pretty cool," declares Hearn on getting the opportunity to play for the Rangers.
Prior to being traded, Hearn played for Altoona Curve, a minor league team affiliated with the Pittsburgh Pirates organization where he began the season as the Pirates' ninth best prospect according to Baseball America.
In college, Hearn played for San Jacinto in Houston then transferred to Oklahoma Baptist University (OBU) in Shawnee for a year. During his college tenure, he achieved recognition for his nine wins which ranked T3rd in the NAIA Sooner Athletic Conference and his 71 strikeouts ranked 10th overall.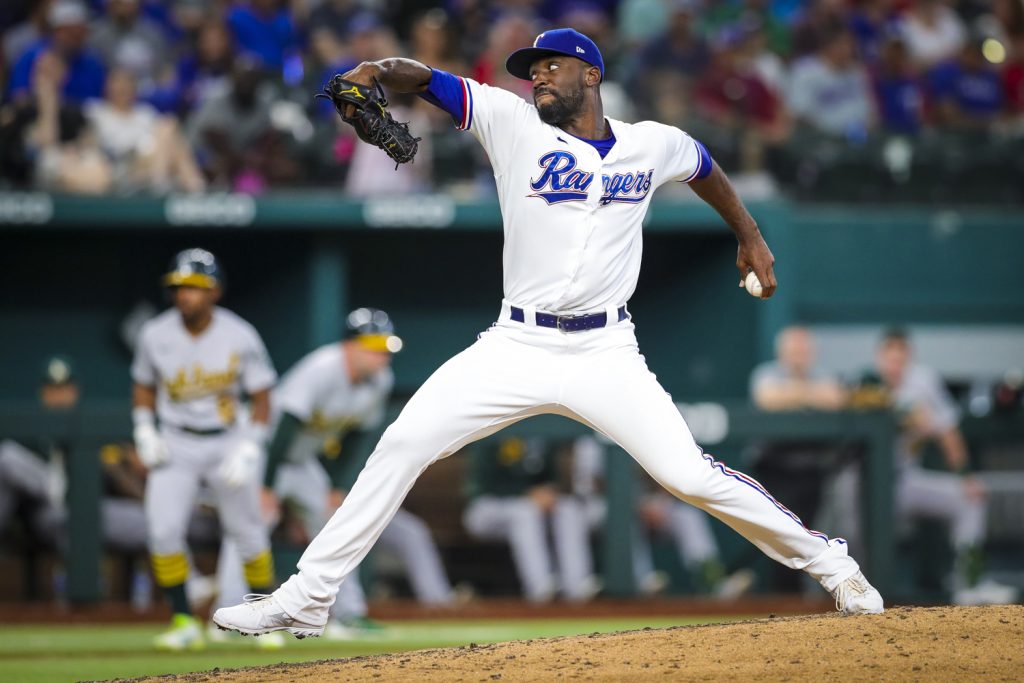 Hearn was drafted by the Pittsburgh Pirates (22nd round), Cincinnati Reds (36th round), and Minnesota Twins (25th round), but chose to remain in college during those years of 2012-2014. In 2015, he signed with the Washington Nationals as fifth round draft pick cementing his professional baseball career.
In 2017, he received the distinguished honor of having his high school baseball jersey retired from his alma mater, Royse City high school.
He credits his father, Robby and his mother, Debra for always supporting him and being a constant encourager throughout his life.
"They have been so supportive in every aspect of my life from the ups and downs with dealing with injuries to playing different sports coming from rodeo, basketball, baseball and football," he states.
Hearn is not only close to his parents, but as he puts it he has a tight knit relationship with his younger sibling, Robyn. He affectionately described their relationship like any typical brother/sister dynamic in that they have the occasional sibling disagreements and trash talking, but overall there is a mutual love and respect they fiercely have for one another.
He comes from a strong legacy of rodeo professionals as his father and paternal uncles and grandfather roped. Hearn expressed his gratitude toward his parents for never trying to push him in one direction or another with respect to sports. However, he strongly feels his path to pursuing baseball was more of a divine appointment than a personal choice.
"…the reason why I did chose it as I tell everybody is I think it was already picked for me by God because I can't tell you why I just started playing it for some reason…," exclaims Hearn on when he shifted to playing the sport exclusively.
According to Hearn, he is not consumed by stats which as reported by MLB.com the week of July 11, his stats show an Earned Runs Average (ERA) of 4.89; Walks and Hits per Innings Pitched (WHIP) at 1.54; and Strikeouts of 47.
He understands firsthand how hard it is to get to the majors, but how it's even harder to stay. He expressed how his faith has been what has helped him maintain a healthy perspective especially in an industry where job security is solely based on performance.
"Fortunately for me, I don't really look at stats. I don't know how many strikeouts I have or how many innings I pitched…honestly, I realized my stats doesn't define me–who I am," he asserts.
Ephesians 6:11 and Romans 8:28 are two of Hearn's favorite scriptures as it's what grounds him during the ups and downs that come with being a professional athlete.
In addition to family and faith, community service is also important to Hearn. Throughout the season and offseason, he participates in the Reviving Baseball in Inner Cities (RBI) Program. Along with serving with his teammates, Hearn has also served within the Arlington ISD by speaking and mentoring to youth.
According to Philadelphia Inquirer, seven percent of players on MLB rosters are American-born Black athletes. Hearn fully understands the platform he's been given and he hopes to bring more enthusiasm about the sport within the African American communities to dispel the idea that football and basketball are the only choices.
He also spoke about his participation with the Players Alliance, a nonprofit organization that was created primarily for the purpose of addressing the issue of diversity within baseball. For more information, please visit: www.theplayersalliance.com.
Recently, as reported by CBS Morning News, Rob Manfred, Commissioner of MLB, has pledged up to $150 million dollars to ensure better representation of African Americans within all areas of baseball with some of those monies being distributed to the Players Alliance organization.
"I gave my salary for one day on Jackie Robinson Day to donate to the Players Alliance. Last year during Covid, we gave away free gloves, baseballs and bats in Oak Cliff," he shared.
He also has a passion for supporting organizations that serve individuals and families affected by Alzheimer disease as he personally knows the pain of this disease as his beloved paternal Grandmother suffered from it.
For him, it is not about garnering fame or fortune. What matters most to him is being able to one day pass down those values to his children because for him legacy goes beyond what he does on the baseball field.
Fans can follow Hearn on his Twitter or Instagram accounts.