By Kim Harner, UT Dallas
Dr. Yvette E. Pearson never pictured herself as an engineer when she was growing up. However, she discovered that she loved engineering after her mother encouraged her to major in the subject in college.
"What potential would have been wasted had I not had my mom be the person who said, 'You can do this. Why not you?'" said Pearson, who was born with cerebral palsy. "I entered my career as a faculty member with the mindset that I want to make sure other Yvettes don't get left out."
After working to increase opportunities in engineering for women, minorities, students from low-income backgrounds and people with disabilities as a longtime faculty member and administrator, Pearson began a new role this fall as The University of Texas at Dallas' new vice president for diversity, equity and inclusion.
Pearson joined UT Dallas after serving as associate dean for accreditation, assessment and strategic initiatives in the George R. Brown School of Engineering at Rice University. She succeeded Dr. George Fair, dean of the School of Interdisciplinary Studies, who had led the UT Dallas office since 2014.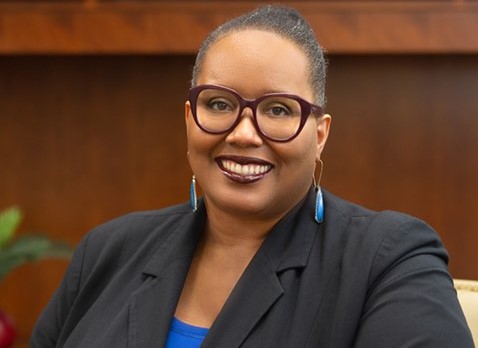 "Dr. Pearson brings 25 years of experience as an educator and administrator who has worked to expand access and success for diverse communities in engineering," said UT Dallas President Richard C. Benson, the Eugene McDermott Distinguished University Chair of Leadership. "I am excited to welcome Dr. Pearson and look forward to continuing our work, under her leadership, to foster diversity, equity and inclusion at UT Dallas."
Pearson said she looks forward to building on the University's progress.
"I'll be doing a lot of listening and relationship-building, and learning about the institutional culture and history and what's already right, which I've seen a lot of so far, and building from there," Pearson said.
In 2020, UT Dallas formed the Living Our Values Task Force of 23 student, faculty and staff representatives to discuss systemic racism, inherent bias, equity, diversity, access and inclusion within the campus community.
The University adopted recommendations from the task force, and last month, it held its first Multicultural Student Welcome. Hosted by Student Transition Programs, the event provided an opportunity for new students from underrepresented communities and their families to connect with faculty and staff, build community, and learn about campus resources.
"Events like the Multicultural Student Welcome let everybody know 'You belong here — you have a place here,'" Pearson said.
The University recently was honored for its work to make to the campus welcoming to the LGBTQ community. Campus Pride named UT Dallas one of the Best of the Best LGBTQ-friendly campuses in the nation for the third consecutive year.
Pearson said the Living Our Values Task Force has shifted the conversation beyond diversity, which she calls a critical step forward.
"Not just at UT Dallas but nationally, we've struggled with diversity," Pearson said. "We've focused on getting the numbers up, which is important, but when it's limited to checking boxes and making people feel like they're here to check boxes, we're not doing what needs to be done under the surface to create a culture of equity."
Creating a culture of equity involves identifying barriers to success and eliminating them at the root level, she said. Her goal is for diversity, equity and inclusion (DEI) to become ubiquitous.
"One aspect of ubiquitous inclusion is a recognition that excellence and DEI go hand in hand, that DEI should be one of the measures of excellence in an organization," Pearson said. "A lot of times the conversation around diversity is as if you're lowering a bar. But if you are seeking to make organizations more diverse or seeking to recruit more diverse students, staff and faculty, that's not the case at all. And if you're successful in attracting more diverse people, the foundations of equity and inclusion must be in place to ensure everyone can thrive."
Pearson, who is from Baton Rouge, Louisiana, earned her bachelor's and master's degrees from Southern University, and her PhD in engineering and applied science from the University of New Orleans.
She has received numerous honors, including the 2021 President's Medal, one of the highest awards given by the American Society of Civil Engineers (ASCE); the 2021 Distinguished Engineering Educator Award from the Society of Women Engineers; and the 2019 Claire L. Felbinger Award for Diversity and Inclusion from the Accreditation Board for Engineering and Technology (ABET). ABET accredits more than 4,000 engineering, computing, engineering technology, and applied and natural science programs in 41 countries.
In 2013 she received a University of Texas Regents' Outstanding Teaching Award as a senior lecturer at UT Arlington, where she taught from 2007 to 2016 and served as associate chair of the Department of Civil Engineering during part of her tenure.
Pearson is the inaugural chair of the ASCE's Members of Society Advancing an Inclusive Culture (MOSAIC), a committee charged with providing leadership in all matters of diversity, equity and inclusion in the civil engineering community. The committee revised the ASCE's "Justice, Equity, Diversity, and Inclusion" policy statement and provided significant input on the most recent revisions of its code of ethics. It also is creating and publishing a best practices guide. Her position as chair ends Sept. 30.
In addition to serving as a university faculty member and administrator, Pearson spent three years as a program director at the National Science Foundation. She also created and hosts the "Engineering Change" podcast, which focuses on overcoming barriers to diversity, equity and inclusion in engineering education.