Last week, the City of Frisco approved zoning to allow Universal Parks & Resorts (FTVN Corp.) to move forward to develop its 'one-of-a kind theme park' specifically designed for families with young children, ages 3 to 11, on 97 acres of land at the northeast corner of the Dallas Parkway at Panther Creek Pkwy.
One of the biggest questions from locals is how the new park will impact traffic, reports WFAA. Transportation planners said they closely considered how traffic generated by the park would impact the already-congested area. Frisco Mayor Jeff Cheney said other potential land uses could have generated thousands more cars per day, including high-rise, office, mixed, and hotel development, which had been planned for the site, they report.
Under development standards outlined in the Special Use Permit (SUP) approved last Tuesday, the theme park will primarily operate between 10 a.m. and 6 p.m. weekdays, when traffic may already be high surrounding rush hour. Limited exceptions would be allowed during holidays, special events and peak seasonal periods.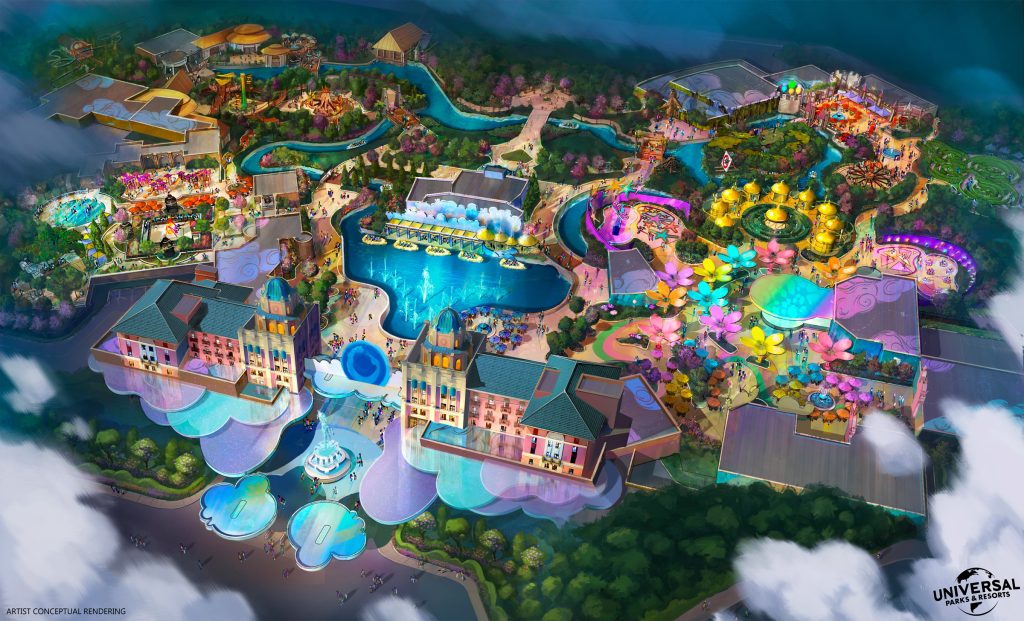 Frisco also approved a development agreement providing $12.7 million in performance-based economic incentives, all funded from sales tax collections generated by the project. The incentives include $10.7 in grants for infrastructure improvements and $2 million in tax reimbursements issued over 20 years. City staff conservatively estimate the theme park will have a $3 million financial impact, annually – or $30 million over ten years – in city property and sales tax received by the General Fund.
Frisco's Planning & Zoning Commission (P&Z) approved the Special Use Permit (SUP), establishing development standards for the theme park project. The P&Z vote was followed by City Council approving the SUP and a development agreement.
"We're excited to welcome Universal to our community and look forward to Frisco families making unforgettable park memories right here at home," said Mayor Jeff Cheney. "We also want to thank our residents who made time to share their feedback about the project. Their thoughtful engagement helped shape the agreement we have today, which we believe is even better than initially proposed. We also appreciate Universal's measured approach and willingness to work with neighbors to develop a plan everyone can be proud of."
There are no 'minimum rider heights of 48 inches or greater' for any rides to align with the target audience of ages, 3 to 11. The SUP limits amusement ride height to 100 feet or less.
The SUP requires guest vehicles use Fields Parkways to enter the park; hotel guest vehicles will use Panther Creek Parkway. Employee vehicles will use Panther Creek Parkway and Frisco Street to access employee parking.
All fencing viewable from roadways surrounding the park must be fully screened using a landscape buffer consisting of shrubs and trees, ranging in 12' – 24', prior to opening the theme park.
The City of Frisco, along with its Frisco Community Development Corporation (FCDC) and Frisco Economic Development Corporation (FEDC), also agreed to provide total $12.7 million in economic incentives, which includes $2 million in sales tax reimbursement for materials. The $10.7 million in grants will support infrastructure improvements for streets, roads and utilities (water, sewer, electric, gas, telecommunications) related to the theme park.
The performance-based incentives will be awarded in two, 10-year phases. Phase I provides $8.7 million, including $1 million in sales tax reimbursements for materials. Phase II provides $4 million, which also includes another $1 million in sales tax material reimbursements. Performance requirements call for the park to be open for business no later than June 30, 2026 and for Universal to invest a minimum of $550 million in project construction. Universal anticipates creating 175 full-time jobs and 1,400 seasonal, part-time jobs. The development agreement notes at least four 'immersive themed lands' designed for young children, as well as a 300-room hotel with a resort-style swimming pool. The development agreement calls for 'promotional discounts or special offers' for residents during non-peak periods at the developer's discretion. The agreement also provides a half-day park access for a city employee appreciation event once a year.
The annual property and sales tax direct benefit to the City of Frisco to be estimated to be $3 million each year – or $30 million over 10 years, Phase I. Staff estimates the indirect economic impact to be $1.5 billion over ten years – and $3.5 billion over twenty.
"The benefits of partnering with another quality, iconic brand such as Universal Parks & Resorts, are endless," said Mayor Cheney. "The tourism revenue and increase to our tax base help us maintain a low tax rate which, ultimately, improves quality of life for our residents. But we're also looking forward to seeing our residents, especially our students, find jobs — or even opportunities to perform — given the creative setting and entertainment business. Again, the chance to experience storytelling on this scale will be unforgettable."
The City of Frisco is investing more than $201 million ($201,987,000) on 10 major roadway construction and/or improvement projects throughout the city's northern corridor. For more information related to the theme park, https://www.friscotexas.gov/1826/Theme-Park.