By Lori Lee
NDG Contributing Writer
In a move that means real progress for Dallas communities, the Office of Economic Development is moving forward with negotiations to encourage new, active transit-oriented neighborhoods after council gave them the authorization last month.
Life is easier for people in transit-oriented neighborhoods. These efficiently designed communities support convenience for both residents and businesses. In these neighborhoods, people can be seen running by the gym on the way to work, picking up groceries on the way home, or stopping by a restaurant to meet neighborhood friends. It is a way of life that is simpler and free of the stress of fighting traffic.
With a mixture of retail, office, and residential spaces situated compactly near each other, a person's every-day needs are met with ease. And with retail and services located on the ground floor, the layout keeps streets active, which is good for safety by keeping eyes on the street. This type of development also supports getting to know neighbors by encouraging repeat encounters at neighborhood destinations.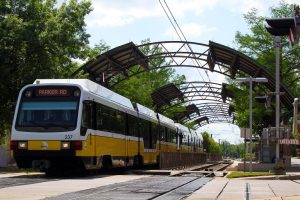 Transit-oriented development simplifies life and also saves time otherwise spent in traffic. And because these neighborhoods are adjacent to mass transit, they make it easy to access other places in the metroplex. They can dramatically reduce the need to drive, up to 85% according to the Transit Oriented Development Institute.
Such reductions can help curb pollution significantly, while contributing to worldwide efforts to reduce global warming.
After approval by the City Council last month, the Office of Economic Development is authorized to move forward with exclusive negotiating agreements with the most advantageous proposers of mixed-use development near six DART transit stations. This step moves the City closer to bringing transit-oriented development to the six DART-owned properties at 8th & Corinth, Hampton, Westmoreland, Lake June, Buckner and Royal Lane. While the sites are currently underutilized with parking, the plan is to replace this parking with vibrant mixed-use developments or more active residential neighborhoods.
In December 2021, DART and the City of Dallas executed a Memorandum of Understanding, giving the City the ability to solicit transit-oriented development proposals for six DART-owned sites adjacent to its light-rail stations.
The City followed in September of 2002 with Requests for Proposal to solicit transit-oriented development for the six sites, wherein potential respondents were invited to submit ambitious proposals, including affordable and mixed-income residential components. Each request prioritized proposals that maximize public benefit and that produce development which increases DART ridership, creates jobs and affordable housing, and which serves new residents and surrounding neighborhoods with new amenities, consistent with DART Transit Oriented Development Policy and DART TOD Guidelines.
With the request for proposals closing in December 2022, the City received three proposals for Hampton Station, two for Westmoreland Station, three proposals for Lake June Station, and one for 8th & Corinth Station. The City also received two proposals for Buckner Station and one for Royal Lane Station.
A six-member evaluation committee composed of City staff and DART came together to review and evaluate the proposal. Following the review and after interviews with each proposer, the Office of Procurement Services recommended the City proceed with the highest scoring proposals, or those most advantageous to Dallas residents. In June, Council approved their selection.
Lori Lee holds a Ph.D. in Urban Planning and Public Policy from the University of Texas in Arlington, with work focused on neighborhood revitalization, neighborhood sociability, and environmental management.