By Ivy N. Carter, MBA – NDG Staff Writer
The stars will align once again for the highly anticipated 18th Annual Trumpet Awards, which will take place on Saturday, January 30, 2010 at the John A. Williams Theater Cobb Energy Performing Arts Centre in Atlanta, Georgia. As with previous years expectations, this year's show is bound to be spectacular with rare performances, legendary presenters, a stellar list of honorees and an electrifying Red Carpet affair.
An iconic list of entertainment icons and the who's who in business, politics, religion, law, sports and entertainment will be attendance to this star-studded celebration. The Trumpet Awards Foundation, started in 1993, has a longstanding reputation and a rich tradition for presenting Trumpet Awards to the biggest and brightest talent of all time, predominantly to African-Americas and their accomplishments and contributions to their communities, society and the world.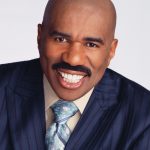 The festivities for the Trumpet Awards will begin on Wednesday, January 27, 2010 at Mt. Vernon Baptist Church in Atlanta, GA at 9:30 a.m. and end with the Trumpet Awards Ceremony at the Cobb Energy Performing Arts Centre on Saturday, January 30, 2010 beginning at 5:00 p.m. This year's Pinnacle Award will go to entertainment icon, Steve Harvey and music legend, Frankie Beverly will receive the Lifetime Achievement Award. Each of these awards is given for significant contributions to the entertainment industry and the African-American community.
Honorees and guests will begin arriving for the Trumpet Awards at 3:30 p.m. at the glamorous Red Carpet Roll Out, hosted by one of America's favorite daytime TV judges, Honorable Judge Glenda Hackett, famed fashion designer and Bravo Television Reality Star, Mychael Knight, WSB-TV News Personality, Jovita Moore and nationally syndicated radio host, Warren Ballentine. Additionally, the awards will spotlight and celebrate a stellar list of 2010 Honorees.
The North Dallas Gazette will be reporting from the Red Carpet Roll Out and 2010 Trumpet Awards, so stay tuned for more.