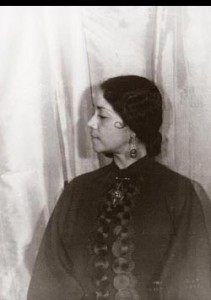 Annie Lillian Evans, who would later become the famed classical singer Lillian Evanti, was by many accounts the first African American to sing grand opera professionally anywhere in the world. She was born in Washington, D.C. into a prominent, historically significant family. The Evans family claimed a Revolutionary War soldier, two abolitionists who took part in the Harper's Ferry Raid, and the first African-American United States Senator among their ancestors. Evanti's own parents were well educated and accomplished; both dedicated their lives to education, her mother as a music teacher, her father as founder and principal of Washington, D.C.'s Armstrong High School.
After graduating from her father's school, Evanti went to a teacher's college and briefly taught kindergarten. She gave up teaching to study music at Howard University. After completing a bachelor of music degree in 1917, Evanti married one of her professors, Roy W. Tibbs. At the suggestion of poet and editor Jessie Fauset, she combined Evans and Tibbs to form the more elegant "Evanti," the name she would use professionally thereafter.
In 1925, Evanti moved to France in hopes of breaking into the European opera scene. During the next few years she performed with the Nice and Paris opera companies throughout Europe. She remained in France until the outbreak of World War II, at which time she returned to the United States. She was well received by audiences in the United States, though she periodically faced racism in the opera community. In one instance, the director of the Metropolitan Opera invited Evanti to audition, but he was unable to convince racist board members to hire an African-American singer.
On Nov. 12, 1941, Madame Lillian Evanto founded the National Negro Opera Company. Evanti was one of the founders of the National Negro Opera Company, and one of its most popular performers. When she sang La Traviata with the company in New York, the interest was so great that additional shows had to be arranged to accommodate the demand for tickets. For this occasion, Evanti translated the opera, which she had performed many times in French and Italian, into English. When the company took the show to Evanti's hometown, her interpretation of Violetta was highly praised: "She is a coloratura whose vocal gifts and attainments include all the resources of the lyric soprano. Her interpretation was, in consequence, both brilliant and sympathetic."
Evanti, who spoke (and sang) five languages, was a particularly versatile singer. She was known for her dynamic performances and her commanding presence on stage. Sometime before African-American singers such as Leontyne Price and Adele Addison began to appear regularly in American operas, Lillian Evanti struggled to realize her tremendous potential as a performer in spite of the racism embedded in the opera world of her day.