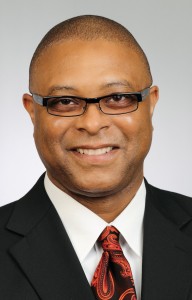 DALLAS—Brian DeVeaux was named Dallas ISD 2013 Associate Principal of the Year tonight during a reception and dinner at W.H. Adamson High School.
Associate principal at Seagoville High School, DeVeaux is a dedicated leader who has served within Dallas ISD for eight years. He is credited with providing continuous support to teachers and staff as they work to create an environment fit for teaching and learning.
DeVeaux' leadership skills have been key in influencing teachers to improve their classroom instruction. "The science department earned the highest scores of all core content areas in 2012 state exams due to his coaching and leadership," said a fellow staff member. "His actions have contributed to improving teacher quality and student achievement at Seagoville High School."
As a campus leader, DeVeaux devotes time and effort into incorporating the district's Destination 2020 plan into his everyday actions. He leads the Principal Executive Leadership Team and continuously has the team discuss the core beliefs and present scenarios in which the core beliefs can be aligned.
"I strongly feel that [the] components of Destination 2020 may be the catalyst that will produce graduates who are college and career ready," said DeVeaux.
Students as well as teachers benefit from DeVeaux' ability to unite efforts and create a common vision of excellence. His constant interaction with students allows him to serve as a positive role model. "He knows the students of our school; you will see students seek him out throughout the day wanting to share their successes and challenges with him," said a fellow staff member. "Alumni have returned to see him and share their progress in college and work."
His influence goes beyond the school, overflowing into the community and impacting parents as well. DeVeaux leads parent and community meetings to discuss the skill set students need in order to be college and career ready.
In his efforts to improve the education for students at Seagoville High School, DeVeaux suggests increasing students' access to technology and building teacher capacity to ensure that the resources are effectively utilized. "The students of today are technologically savvy, and we must be able to use their interest in technology to facilitate learning and prepare them for the future," said DeVeaux. "I envision students utilizing technology in authentic ways that bring the content to life during class activities."
DeVeaux was named the Associate Principal of the Year at the awards dinner at W.H. Adamson High School. The runners-up for APOY were: Dina Townsend of Thomas Jefferson High School, and Michael St. Ama of W.H. Adamson High School