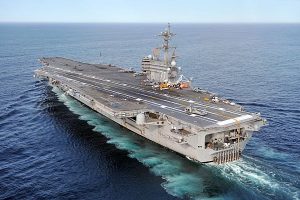 By Samantha Thorpe
NORFOLK, Va. (NNS) (NNS) — The Navy's newest aircraft carrier USS George H.W. Bush (CVN 77) held a change of command ceremony in the ship's hangar bay, June 20.
Capt. Brian E. Luther, commanding officer of George H.W. Bush, was relieved by Capt. Andrew J. Loiselle.
Guest speaker Rear Adm. Ted Branch, Commander, Naval Air Force Atlantic, commended Luther for his exceptional performance.
"The excellence and readiness exhibited by the crew of USS George H.W. Bush is a direct reflection of the leadership of Capt. Luther," said Branch. "His professionalism and dedication to his crew and the Navy comes through in everything he does."
Luther took over as commanding officer aboard George H.W. Bush in March 2011 and led the ship through its first combat deployment later that year. He was awarded the Legion of Merit (3rd Award) for his outstanding performance as commanding officer.
"I want to thank the officers, chiefs and crew of George H.W. Bush for their outstanding performance," said Luther. "They are all highly trained and motivated and will always be heroes in my eyes. I was a captain before I came to this ship, I am a captain now and I will be a captain when I leave but the greatest honor of all was being the captain of the George H.W. Bush. Capt. Loiselle, I know they will make you proud."
Since taking command, Luther has led the George H.W. Bush crew through a number of firsts including making ground breaking strides in naval aviation by being the first aircraft carrier to launch an unmanned aircraft, tested a new torpedo self-defense system, completed a Planned Incremental Availability period and numerous sea trails and carrier qualifications. During this time, George H.W. Bush earned a wide variety of accolades including the Battle Efficiency Award, Admiral Flatley Memorial Award, "Jig Dog" Ramage Award and Battenburg Cup.
"Capt. Loiselle takes command with a proven track record of success, I am confident in his ability continue this ships winning tradition," said Branch.
A native of Cranston, R.I., Loiselle graduated from Assumption College in 1988 with a degree in Mathematics. He previously served as executive officer aboard USS Theodore Roosevelt (CVN 71) and most recently as commanding officer of USS Gunston Hall (LSD 44).
"I hope to carry on the great tradition already established on this ship," said Loiselle. "I have already seen the supreme work ethic and attitude that will carry us to greater heights when we head out on deployment and operate in service to this nation."
USS George H.W. Bush is in port conducting training operations in preparation for the upcoming underway schedule.
For more information on USS George H.W. Bush follow the ship's fan page on Facebook at http://www.facebook.com/USSGeorgeHWBush>
For more news from USS George H.W. Bush (CVN 77), visit www.navy.mil/local/cvn77/.