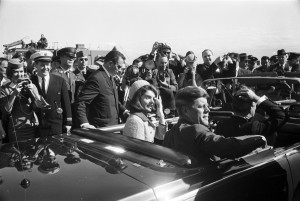 ARLINGTON, Texas — Nearly half a century ago, President John F. Kennedy stretched forth his hand to connect with thousands of people waiting to see and hear from him in a cold, rainy but ebullient Fort Worth.
That awe-inspiring moment, captured in a black and white photo, is part of a new exhibit at The University of Texas at Arlington Libraries Special Collections honoring the memory of President Kennedy 50 years after his assassination in Dallas.
The public is invited to experience the free exhibit, "Howdy, Mr. President! A Fort Worth Perspective of JFK" Sept. 9 through Feb. 8, 2014 at the UT Arlington University Central Library, 702 Planetarium Place.
"We are truly honored and excited to offer this important retrospective of the Kennedys' visit to Fort Worth," said Rebecca Bichel, dean of the UT Arlington Library. "We expect the exhibit will be of great public interest to those who witnessed that day, Nov. 22, 1963, and to younger generations who want to know more about history."
Bichel added: "UT Arlington Special Collections is an invaluable repository for research students, educators, journalists and others who want to research the life, legacy and assassination of our nation's 35th president."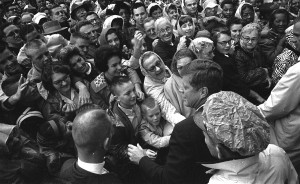 The photos are from the historic Fort Worth Star-Telegram Collection archived at UT Arlington. The collection also contains photos taken in Dallas following the assassination and photos of the funerals of Dallas Police Officer J.D. Tippit and Lee Harvey Oswald.
Jim Witt, Star-Telegram executive editor, said that he looks forward to visiting the University and viewing the iconic photographs again.
"This was a very important time in our nation's history, and these images really bring the events to life," Witt said.
The exhibit includes 80 photos in all. Among them are rarely seen intimate images of President and Mrs. Kennedy holding hands in public.
"The exhibit focuses on a different angle of the Kennedys' visit to North Texas and that is their buoyant Fort Worth visit," said Evelyn Barker, UT Arlington Library director of marketing. "The photos are so poignant. They look happy and it is just a really jubilant time."
Kennedy would be handed a cowboy hat, which he declined to put on that day. He later told the crowd, "There are no faint hearts in Fort Worth."
More information is available online at the Special Collections website.
Find a campus map online at www.uta.edu/maps/map?id=LIBR.
The University of Texas at Arlington is a comprehensive research institution of more than 33,000 students and more than 2,200 faculty members in the heart of North Texas. It is the second largest institution in The University of Texas System. Visit www.uta.edu to learn more.