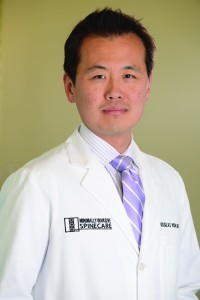 In October Dr. Douglas Won, founder and director of Minimally Invasive SpineCARE and Star Medical Center, was recognized for health care excellence by two award programs. The Dallas Business Journal named him to its 2013 list of "Who's Who In Health Care" and The Irving Award Program presented him with a 2013 Irving Award in the Doctors classification.
Every year the Dallas Business Journal accepts nominations for health care leaders who are "impacting the industry in North Texas through innovative work." Dr. Won was nominated for the honor by Lisa Young, CFO of Minimally Invasive SpineCARE and Star Medical Center, and was selected as one of only 25 award winners by the Dallas Business Journal's panel of judges.
"Dr. Won makes such a difference in our industry and our community. He truly has a heart for serving others and making the world a better place; and he inspires those around him to do the same. I can't think of anyone better suited for this honor," said Young.
The Irving Award Program recognized Dr. Won with a similar distinction, declaring him one of Irving's best doctors for his dedication to his patients and his practice, as well as his leadership skills. Despite difficult economic times, Minimally Invasive SpineCARE has grown to include 12 locations under Dr. Won's leadership; and the practice continues to add new services, divisions and affiliations, like Star Medical Center, a new surgical hospital in Plano that will begin seeing patients this month.
"Doug Won has demonstrated the extraordinary ability to function as an entrepreneur and gifted surgeon. It's great to see how many opportunities he's created in the DFW region," said Dr. Sean Jones-Quaidoo, a surgeon with Minimally Invasive SpineCARE and Star Medical Center.
Dr. Won has more than 15 years of experience in medicine and more than a decade specializing in helping people manage back pain. He was drawn to the field at an early age, after watching his father suffer through chronic back pain and multiple, ineffective surgeries.
"My father had four back surgeries and lived all his life with severe back pain. I witnessed the sub-optimal care he was receiving when I was in middle school, and it sparked my interest to enter the field of health care as well as spine care," noted Dr. Won. "I am so thankful to be able to make a difference – to relieve pain and help people get back to their lives. I can't imagine doing anything else."
Approximately 95% of Dr. Won's patients are treated non-surgically, but when surgery is necessary, Dr. Won employs the most non-invasive methods possible. He helped develop endoscopic laser spine surgery and was the first surgeon in Texas to perform it with a 3mm incision, the size of a small grain of rice. Such a small incision, performed with the right tools, generally results in less damage to the skin and muscles, less blood loss, less pain and a faster recovery time.
Another one of his inventions is the poly-axial pedicle screw assembly, which was awarded a U.S. patent earlier this year. It enables surgeons who are performing spinal fusions to go between the muscles without tearing them.
One of the most highly trained spine specialists world-wide, Dr. Won has completed fellowship training in spine surgery at William Beaumont Hospital's Spine Center, as well as fellowship training in cervical spine surgery, microscopic spine surgery and spinal deformity surgery at Washington University School of Medicine. He completed his internship and residency through Washington University SOM/Barnes-Jewish Hospital, received his Doctor of Medicine from The University of Texas Medical Branch in Galveston, Texas, and holds undergraduate degrees from Northwestern University and Harvard University.
Dr. Won is a clinical assistant professor at The University of Texas Southwestern Medical School, and he holds leadership positions with a number of professional organizations. He's also actively involved in the community. He serves as a mentor, performs charity work locally and abroad, and sits on the board of Irving Schools Foundation. In his spare time, Dr. Won plays the violin and enjoys various sports, such as Tae Kwon Do, rock climbing, tennis, golf and salsa dancing.
"I started salsa dancing during my surgical residency in 2001. During my fellowships and the first year of my practice, I was on a dance team that performed at local events. It's a great way to exercise and relieve stress. Also, it lets me interact with many great people from all walks of life," noted Dr. Won.
A division of Lumin Health in Irving, Texas, Minimally Invasive SpineCARE is a nationally acclaimed, comprehensive spine center dedicated to providing the most effective answers to back and neck problems. Minimally Invasive SpineCARE has 12 locations throughout the Dallas-Fort Worth area. Each clinic also offers OrthoCARE services, which includes orthopedics, foot and ankle care, and sports medicine. Their physicians utilize innovative treatment pathways to focus on the least invasive surgical approaches to alleviate their patients' pain. Minimally Invasive SpineCARE and OrthoCARE are affiliated with Star Medical Center, a new surgical hospital in Plano, Texas, which provides exceptional patient services in a first class environment. For more information, call 1-888-600-6474 or visit spinecaredfw.com, orthocaredfw.com or starmedcenter.com.