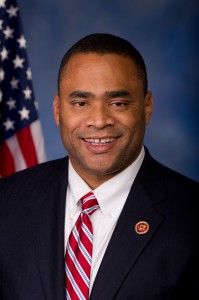 U.S. Rep. Marc Veasey, TX-33, today highlighted new economic data showing jobs progress in Dallas-Fort Worth and called for Congressional action to accelerate economic development and jobs recovery.
According to a new report from the Federal Reserve Bank of Dallas, the North Texas economy has grown at a "moderately strong pace" and is outperforming the state. The Dallas–Fort Worth Economic Indicators report, released on the third Thursday of each month, provides economic data and analysis about the region.
Year to date, Dallas–Fort Worth employment has grown 2.9 percent, which is above the state's rate of 2.4 percent. Housing activity remains at high levels, and home prices continue to rise as inventories fall. Demand for industrial space has led to the lowest availability rates since 2007.
Though Dallas and Fort Worth unemployment rates remain below those of the U.S and Texas, and the Dallas Fed Business-Cycle Indexes suggest continued expansion for the Dallas–Fort Worth metroplex, U.S. Congressman Marc Veasey remains focused on strengthening jobs, the economy and the middle class.
"While the economy is showing signs of improvement, there are still a lot of people looking for work," said Rep. Veasey. "Job growth has been a top priority during my first term in Congress and, next week, I am bringing the region's top job-creators together with metroplex job-seekers, for the first 33rd Congressional District Job Fair to help workers find good jobs, which will put dollars right back into our local economy. Back in Washington there is still much work to do to ensure this fragile recovery continues. Congress must work in a bipartisan way to put our nation back on track with a commonsense budget that will strengthen job creation and the economy while continuing to reduce the budget deficit in a balanced and responsible way."
The 33rd Congressional District Job Fair will take place on Monday, December 9, 2013 from 8:30 a.m. to 12:00 p.m. at the Tarrant County Resource Connection Conference Center, located at 2300 Circle Drive in Fort Worth. The job fair is free and open to the public.